The Leader's Column
December 2017 - January 2018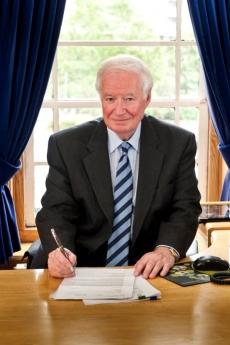 We have had some encouraging news. Just recently, Heathrow Airport announced an area in the Rainham business sector as one of the 65 longlisted sites in the running to be selected as an expansion Logistics Hub for building Britain's new runway.
The airport plan would be the first UK infrastructure scheme to create four Logistic Hubs across the country that would provide offsite manufacturing and construction for the third runway. This would be a huge opportunity for Havering people to play a major role in the development of a new UK expansion model, and we have been selected as one of only two London locations out of the 65 potential sites; this has been reduced from the initial 121 applications.
Last month, Children's services held an event to officially open The Cocoon, one of east London's only dedicated support hubs for children in care and care leavers. The Children's Commissioner for England, Anne Longfield and I attended the ribbon cutting with local young people in care, as did The Deputy Mayor, Cabinet Members, council staff and foster carers.
The centre will provide a safe drop-in space for children and young people living in care or leaving care, where they can meet with key workers and progress with personal development.
The Cocoon will enable young people to develop key life skills, get access to training, receive additional education support, learn how to cook and receive help with housing and health. It will also provide new opportunities for children and young people as they move towards independent living.
To support further these young people as they take their first steps towards independence, the council is proposing to cover the cost of council tax for care leavers who live in their own accommodation Havering until they reach the age of 25. We have 128 care leavers, 51 of whom live within Havering in independent accommodation.
In October, I placed the last tile in the 25m eight-lane lane main pool at the new Sapphire Ice and Leisure centre in Romford, where I was joined by other Cabinet members, Willmott Dixon Construction and partners. There is also a 15 x 8m learner pool and sauna and steam rooms. Councillor Melvin Wallace was also lucky enough to help install the very first seat near the ice-rink. This will be the borough's biggest leisure facility and it is due to be complete ahead of schedule for residents and visitors to enjoy very soon.
Recently we officially kick-started Christmas activities with thousands filling the Market Place in Romford to enjoy the big light switch-on event along with lots of family entertainment. This was followed by the Christmas Cracker event in Hornchurch. As always the fun doesn't stop there. Residents can also enjoy various enchanted Christmas events in Romford Market, including the Kingdom of Elves and a Winter Wonderland Experience.
On Saturday 25 November, an official opening was held at the new Noak Hill Sports Complex. There were free football and tennis coaching sessions, a bouncy castle and face painting. Since opening earlier this year, the 3G football pitch and tennis courts have proved extremely popular, and are regularly fully booked, showing that the community really values the additional facilities provided here.

We are continuing with our efforts to save police public access point in the borough. MOPAC has announced the closure of both Hornchurch and Rainham police stations, as well as Safer Neighbourhood bases across the borough, with the exception of Elm Park. This is absolutely unacceptable and fails to consider the needs of our residents and of our population growth.
Finally, Havering is bidding to become the London Borough of Culture in 2020. This is a very good opportunity for us to showcase the importance of Havering's culture, heritage and arts offer. We have strong heritage buildings such as Langtons and Rainham Hall – a National Trust property, which hosts exhibitions for local residents and visitors. With two theatres, Queen's Theatre in Hornchurch and Brookside in Romford, and over 100 green spaces and parks, Havering has a lot to offer.