The Leader's Column
February 2018 - March 2018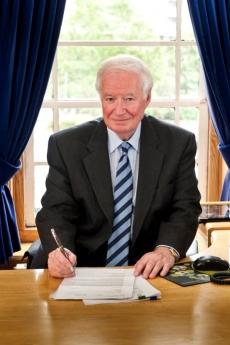 The Council will be organising a borough spring clean in March. In the past these have been a great success and residents have supported our staff with their help to tidy up their streets and parks. We wish this year to focus in particular on regular hotspots for litter such as Romford and Hornchurch Town Centres. We'll be announcing more details in the coming weeks, but I hope everyone will be able to do their bit to help spruce up the borough as we head into the lighter evenings of the summer months. In all surveys residents tell us how much importance they place on the quality of the environment.
I was invited to pay a visit recently to Dagnam Park Nature Reserve in Harold Hill to see the work being undertaken by the Friends of Dagnam Park to unearth the foundations of The Manor or Dagnam House. This was a grand house that I remember visiting as a very young child prior to its demolition in the early 1950s. A band of volunteers are working on the site several times a week and I was pleased to hear that they are receiving assistance from our parks and local history colleagues to enhance that area of this wonderful park. The site was at one time the location of the home of Samuel Pepys. Information as to the history can be found on the Friends of the park website.
Over the last few months alone, we have secured two Joint Venture partnerships that will transform parts of the borough. We have also agreed on our preferred development partner to regenerate 12 council housing estates. This is one of the most ambitious mixed tenure and social housing programmes in London, and we will look forward to announcing our successful partner for this £1billion investment next month. In total, £3 billion of investment in Havering has been secured for these three schemes in under a year. The schemes will provide much needed affordable housing for our residents and their children and low cost home ownership for young people wishing to get on the housing ladder and to remain living locally.
The Sapphire Ice and Leisure Centre in Romford opened on Saturday 3 February. This is the borough's biggest leisure regeneration project and it has been long awaited. We were joined at the opening by Dancing on Ice champion and former X Factor contestant, Ray Quinn, and renowned athlete Colin Jackson, CBE. Guests enjoyed a day of free activities, such as ice skating sessions, family fun swims and exercise sessions including group cycling, boot camps and much more. The day saw the Raiders return to the town to play their first ice hockey game there since April 2013.
This has been a lengthy and difficult project involving great fortitude and determination of both officers and members and I pay tribute to all those involved in delivering the first swimming in Romford for more than 20 years.
The Council has been progressing its Local Plan since 2015 and has been working with an adopted London Plan that sets a minimum housing target of 1,170 homes per annum. A significant amount of work has gone into the preparation of the Local Plan and while we recognise that the new Mayor of London has published his draft London Plan, it is a draft and is still subject to consultation and an examination in public. We are therefore continuing to progress our Plan and will submit it to the Secretary of State in February. In line with Counsel's advice we are required to be in general conformity with the current adopted London Plan and that is what we are aiming for. We have had a positive response to our Local Plan consultation from the GLA. In due course, we will need to review the Local Plan (as all authorities do) and at that point we will need to take into consideration the policies in any new London Plan. We will be objecting strongly to the draft London Plan housing target as it is as totally unacceptable, unachievable and unsustainable and is not based on robust evidence.