The Leader's Column
October - November 2017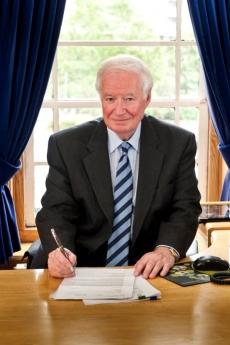 I would like to offer my thanks to all the officers who worked hard to deliver one of the best Havering Shows we have seen. The weather certainly had a part to play, with a record 55,000 people attending over the bank holiday weekend; however, the entire offer was very impressive. I would also like to thank the many sponsors that contribute towards the event – without their support, we would not have been able to deliver it for free yet again.
Mayors and deputies from 12 other councils attended to support Madam Mayor and were greatly impressed by the event.
I was part of the administration when the Havering Show started 39 years ago, and I have seen it change and grow over the years. I am sure, like me, members will all be looking forward to celebrating its 40th anniversary next year.
I would like to congratulate the thousands of young people across the borough who received their GCSE and A-Level results. A-Level results exceeded the national rate, with Havering students achieving a 99% pass rate. And this year, we saw GCSE results in the new 1-9 grading system – with Havering's results above the national average, dramatically improving its ranking. These results show sound progress in achievement which is one of the cornerstones of our school improvement programme.
I would also like to take this opportunity to thank all teachers and education staff for their continued dedication and efforts to support students across the borough.
This year a record 13 parks in the borough have achieved Green Flag status. Harrow Lodge Park and Haynes Park are the latest to be added to the list of Green Flag parks by environmental charity Keep Britain Tidy, with the other 11 retaining their Green Flag status. They are: Bedfords, Upminster, Hylands, Lodge Farm, Cottons, Harold Wood, St Andrews, Lawns, Raphael, Central and Rise Parks.
This is well-deserved recognition of all the hard work put in by both the staff and Friends groups to maintain and improve our parks for the benefit of the community. We know how much quality green spaces matter to residents and visitors, and these awards celebrate the dedication that goes into maintaining our parks to such a high standard.
On another note, residents may have observed an increase in rough sleeping. The council's housing teams have successfully placed a number of these rough sleepers into relevant accommodation, but it is also important to highlight that not all who are seen to be sleeping rough are willing to accept help. Some individuals carry out anti-social behaviour, including organised begging and street drinking.

Over the last year, we have worked with police to tackle this, and issued three Community Behaviour Orders and 13 Community Protection Notices. Officers are also working with local off-licences to discourage them from selling alcohol to known street drinkers and have been consulting on a Public Space Protection Order (PSPO) to combat street drinking. This order will replace the current Designated Drinking Area in Romford which prohibits anyone drinking of alcohol within the ring road in Romford.
Finally, this year marks the 80th birthday of the Town Hall and of the Romford Borough Charter. In September 1937, the Borough Charter was granted by King George VI, and we were given our first Mayor. The Town Hall has seen some interesting things over the years and historical moments in time, and it has of course been recognised as a listed building.