Romford's town centre shortlisted for an award – and you can help us win it!
Romford town centre has been shortlisted for an award in the Great British High Street competition.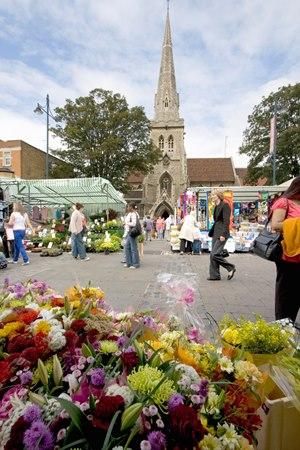 The Great British High Street campaign supports people and organisations working to revive, adapt and diversify high streets. It's a not for profit organisation supported by central government and the Mayor of London.
900 entries from across the UK were received for the 14 award categories and from those 42 were shortlisted including Romford town centre in the London category. Romford will be competing for the London title against Lower Marsh in Waterloo and Myddleton Road in Haringey.
The winner will partly be decided by public vote and the winner will receive a share of the £100,000 prize pot along with training from Google's digital taskforce for shops, bars and restaurants and advice from Twitter UK to boost shop owners' social media skills.
Councillor Osman Dervish, Havering Council's Cabinet Member for Environment, Regulatory Services and Community Safety said:
"I'm delighted that we have made it on to the shortlist for this award. Thanks to the Romford Town Management Partnership and Made Public there is so much going on designed to make Romford town centre a vibrant shopping and leisure destination.
"Plans are already well-advanced to reinvigorate our historic market and the brand new Retailery initiative will help encourage new businesses to get a helping hand on the way to trading successfully in the town. I urge everyone to go to the awards website and vote for Romford!"
Jonathan Birkett, Romford Town Centre Manager for the Romford Town Management Partnership said:
"This is a fantastic opportunity for Romford and we are very excited to be recognised as one of the Great British High Street award finalists. We are all becoming aware that our town is changing and it's becoming really exciting. We feel the work done to date has been extremely positive and with the development of the Romford Business Improvement District on the horizon the future looks very bright indeed.
"Winning the Great British High Street Award would be a fantastic acknowledgment of our business community, arts and cultural community and the Council working together to create a vibrant and prosperous town centre."
Lauren Martin, from Made Public which submitted the award entry said:
"We love Romford and we love what it could become. We are really excited for everyone to get behind the campaign and vote for Romford."
High Streets Minister Andrew Percy said:
"Our high streets are the life and soul of towns, villages and cities across the country and the record number of competition entries this year is proof of their continued importance to local life.
"There are bustling high streets up and down the country from North London to Northumberland and now is the time you can show support for your local area and get voting".
Voting closes on Friday 18 November.