Council puts brakes on amateur drifting and offers support to rough-sleepers
Havering Council and partners put the brakes on dangerous car racing on Ferry Lane, Rainham and tackled rough sleeping and anti-social behaviour in Romford Town Centre.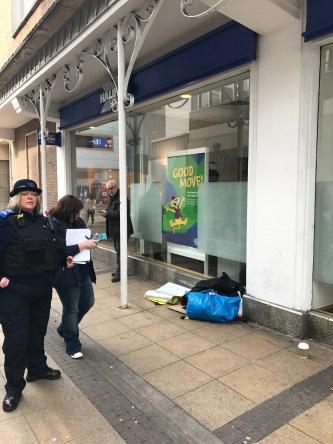 During the Partnership first night of action on Friday 10 March, the Metropolitan Police were faced with groups of amateur drivers, many of who were issued with warning and dispersal orders, as well as drugs warnings.
Inspector John Goodwin said: "Drifting can be harmful to the environment and everyone in the locality which is why we are tackling this. The night of action was a great success and we hope to carry out many more which will help to solve this damaging issue in the south of the borough."
The night of action was in addition to a two-day enforcement initiative with both days of action –Saturday 11 March and yesterday (Wednesday 15 March), taking place in Romford Town Centre.
On Saturday (11 March) there was an arrest for the assault of a Parks Police Officer at the Churchyard in Romford. This has resulted in a warrant being issued, as the defendant did not appear for his hearing at Barkingside Magistrates Court on Tuesday 14 March.
Other results across the two-days include:
Community Protection Notices (CPNs) warnings for passive begging
Two Dispersal Notices served
Outreach engagement with 14 rough sleepers where advice and/or appointments were given to meet with the Council's Housing team and Thames Reach Charity this week
Engagement with 20 young people who were behaving in an anti-social manner which has been followed up by the Police who will serve parental warning letters.
The team has identified three possible rough sleeping areas around Romford Town Centre which is currently being consistently monitored by the Council's Street-scene Team.
Councillor Osman Dervish, Cabinet Member for the Environment said:
"While Havering is, and continues to be one of the safest parts of London, there will always be a minority who try to flout the law, and this is why we are determined to work with all of our partners including the police to improve safety across our borough through initiatives such as the days and nights of action.
"This was our first night of action and I'm pleased with the results we achieved because we will not tolerate amateur racing in the borough."
The action team consisted of Havering Council's Community Safety, Street-scene, Parks Police, and Housing teams along with the Metropolitan Police.