Briar Road groundbreaking is "concrete evidence of regeneration vision"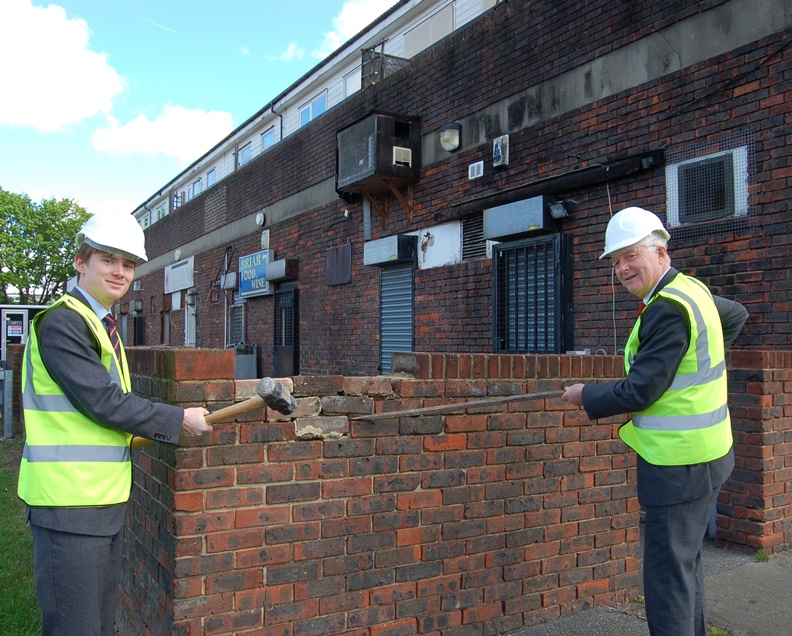 The first bricks fell this week as work began to prepare a site in Briar Road, Harold Hill where 46 new homes and two new shops will be built as the latest phase of the Council's Housing Programme.
Deputy Leader of Havering Council and Cabinet Member for Housing, Councillor Damian White, said: "This groundbreaking is concrete evidence of our regeneration vision to build more affordable homes for Havering people.
"The Housing Regeneration Programme will deliver around 3,500 new homes across 12 parts of the borough during the next seven years. But by making better use of smaller sites like this one in Briar Road, it will help us deliver around 500 new homes in addition to that.
"Developing smaller sites means the work can be done more quickly so new homes can be provided earlier to help local people.
"These new properties will be built to a high standard, be energy efficient and we expect there to be high demand for them."
The Briar Road scheme includes the demolition of a small parade of shops, the flats above and some nearby properties, which is due during May. The first stage of the work by contractors Allenbuild includes creating the contractors compound and removing internal fittings and asbestos from the existing buildings. The development should be finished by late 2018.
The finished development will have four three-bedroom houses, six two-bedroom houses, 33 two-bedroom flats and three one-bedroom flats along with 86 parking spaces and two shops for local businesses. All the flats will be for affordable rent and the houses for Low Cost Home Ownership.
Watch: Councillor Damien White, Deputy Leader of the Council and Cabinet Member for Housing speaking at the Briar Road scheme groundbreaking ceremony.
The bigger picture
Havering is launching a £1billion contract to build 3,500 homes across 12 development sites. The Council is seeking to form a Joint Venture partnership with a housing developer to deliver this over the next 15 years.
This is one of the most ambitious local authority home building programmes in the country. The land being used will remain in Council ownership.
Since Right to Buy started, around 4,000 Council homes have been sold and these need to be replaced.
Many of the 3,500 new homes will be for rent but some will be Low Cost Home Ownership, where the Council retain a share in the property and it must be sold back to the Council when the owner moves. There will also be some properties for sale where the buyer will have full ownership.
The intention is to deliver the Housing Regeneration Programme through a Joint Venture Company, half owned by Havering Council and half by a development partner.
The Housing Regeneration Programme is part of a wider vision for Havering, with the development of three Crossrail stations, and plans for 30,000 new homes and 18,000 jobs coming to the borough by 2035.
As part of this vision two new Housing Zones will be developed in Romford and Rainham. The Romford Housing Zone, received funding of £34.9 million from the Mayor of London to provide around 3,300 homes.
In Rainham, the Housing Zone will deliver around 3,500 homes with the project being supported by more than £30.56 million in grant and loan money from the Greater London Authority (GLA), and additional funding sources including £8 million from Transport for London (TfL) for the new Beam Park station.
For more information on the 12 sites in Havering Council's Housing Regeneration Programme view our interactive map.