Havering marks St George's Day in style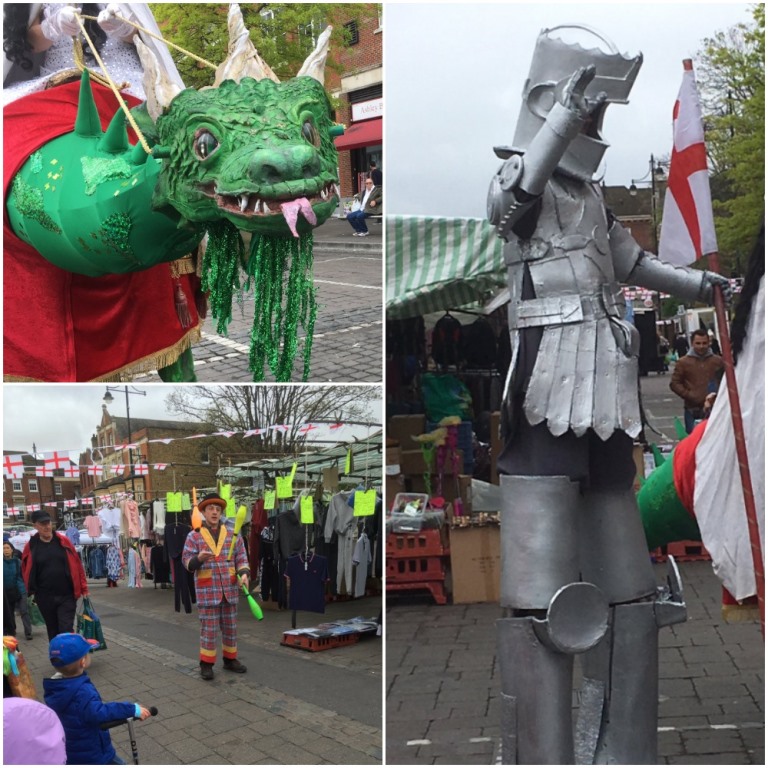 People turned out in force in honour of our patron saint at Market Place, Romford, on Saturday 22 April.
Residents and visitors from across the borough and beyond took part in the St George's Day festivities organised by Havering Council.
Those who attended were treated to hot food and a host of entertainment including: The Haverettes, and British Legion marching bands.
Romford's Town Crier was also around and in full voice encouraging everyone to get into the spirit.
A number of performers, such as stilt walkers, balloon modellers, magicians and jugglers were enjoyed by all, while children took advantage of free face painting, and a variety of attractions.
The festivities saw the market clad in red and white bunting, providing a patriotic backdrop for our two dragons which were roaming the market, along with a princess, and of course brave St George.
In Harold Wood, more than 60 people attended a St George's Day barbecue at Beehive Court – and while there was no fiery dragon cooking the burgers and sausages – cook Emma Broad brought the heat on the grill at the celebration on Sunday 23 April.
The gardens at Beehive Court sheltered housing scheme had been decked out in Union Flags and the flag of St George for the event.
The brains behind the event was SHOUT Forum representative Graham Broad and his wife Frances who had massive support, not just from residents of the sheltered housing scheme, but from the wider community who donated food drink and raffle prizes as well as coming along to support the event.