Improvement work begins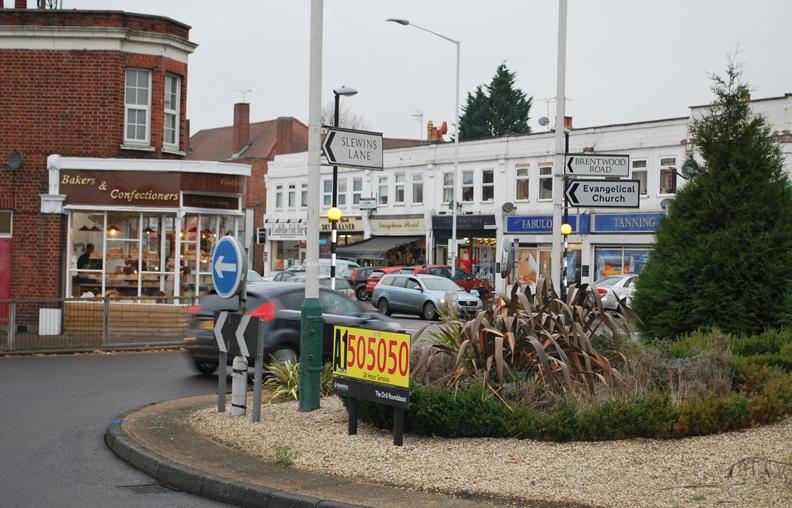 Work at a busy junction begins on Monday.
Thanks to a grant of £100,000 from Transport for London and the successful conclusion of a public consultation process earlier this year, Havering Council is beginning work on a series of improvements to a busy roundabout in Romford this Monday (15 May).
Four new zebra crossings will be installed and footways widened on the approaches to the Drill roundabout near Gidea Park station at the junction of Brentwood Road and Slewins Lane. The zebra crossings would improve pedestrian access around the junction by the Drill public house.
Steve Moore, Havering Council's Director of Neighbourhoods, said:
"The pedestrian traffic islands around the Drill roundabout are old, provide little waiting space, and are difficult to maintain. There are areas where the footways are narrow and there's a substantial amount of street clutter that these works will clear up.
"There will be some short-term disruption to users of the roads and pavements around this roundabout but we'll be doing our best to minimise any inconvenience caused and all works should be complete by 24 July."
A map of the area of work and a list of affected roads is shown below.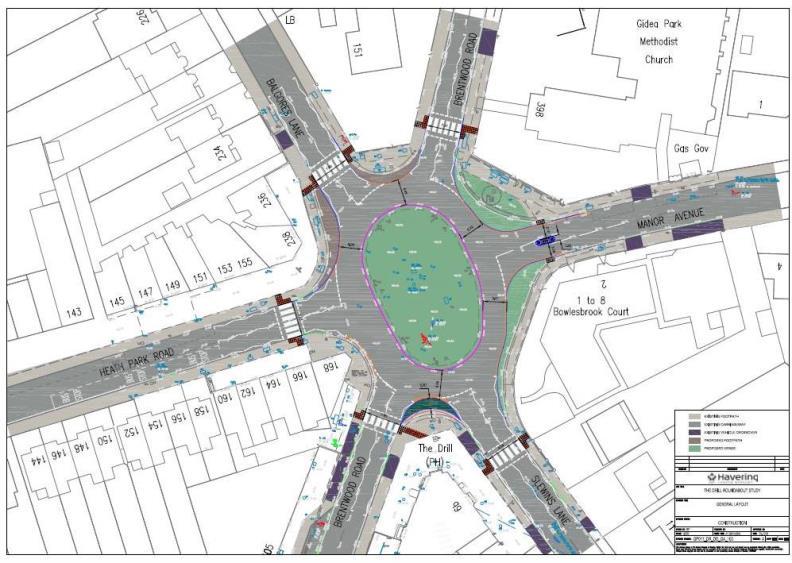 Map showing the area of work
1

Road/Length of Road

2

Duration of Works

3

Alternative Route/s

Temporary Closure of

Manor Avenue

Closed at its junction with The Drill roundabout

Between: 09:30 hours to 15:30 hours, Monday to Saturday on 15th May 2017 to 5th June 2017 or upon completion of the works, whichever is the sooner

Squirrels Heath Lane Westmoreland Avenue

Temporary Closure of

Slewins Lane

Closed at its junction with The Drill roundabout

Between: 09:30 hours to 15:30 hours, Monday to Saturday on 5th June 2017 to 19th June 2017 or upon completion of the works, whichever is the sooner

Cavenham Gardens Northumberland Avenue

Temporary Closure of

Brentwood Road (south side)

Closed at its junction with The Drill roundabout

Between: 09:30 hours to 15:30 hours, Monday to Saturday on 19th June 2017 to 26th June 2017 or upon completion of the works, whichever is the sooner

Salisbury Road

Cavenham Gardens

Hazelmere Gardens

Temporary Closure of

Heath Park Road

Closed at its junction with The Drill roundabout

Between: 09:30 hours to 15:30 hours, Monday to Saturday on 26th June 2017 to 3rd July 2017 or upon completion of the works, whichever is the sooner

Fairholme Avenue

Manor Avenue

Salisbury Road

Temporary Closure of

Balgores Lane

Closed at its junction with The Drill roundabout

Between: 09:30 hours to 15:30 hours, Monday to Saturday on 3rd July 2017 to 10th July 2017 or upon completion of the works, whichever is the sooner

Fairholme Avenue

Station Road

Temporary Closure of

Brentwood Road (north side)

Closed at its junction with The Drill roundabout

Between: 09:30 hours to 15:30 hours, Monday to Saturday on 10th July 2017 to 24th July 2017 or upon completion of the works, whichever is the sooner

Station Road

Squirrels Heath Lane

Upper Brentwood Road