Langtons Summer Concert hits the right notes with guests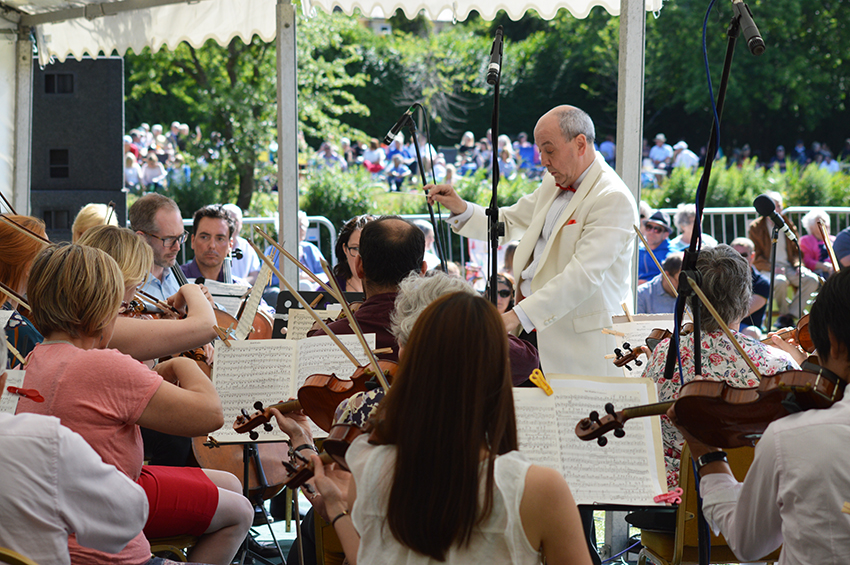 Havering Council held its popular event - Langtons Summer Concert yesterday (Sunday 11 June), which turned out to be a great afternoon for residents and visitors.
The annual performance by the Westminster Philharmonic Orchestra attracted around 1,500 people; who all enjoyed a selection of light classics ranging from Orpheus in the Underworld to Pomp and Circumstance; flavoured with popular favourites from the film High Society and TV classics including the themes to the Darling Buds of May and the much-requested Thunderbirds.
During the performance, the audience rose to join in with Land of Hope and Glory, waving Union flags and programmes as the concert - led once again by evergreen conductor Jonathan Butcher, took on a royal flavour to mark the Queen's Sapphire Jubilee.
The specially commissioned floral royal crown display was also admired by guests and will remain as a focal point in the gardens for the rest of the year; along with two others situated at the Town Hall in Romford and in Collier Row.
Councillor Melvin Wallace, Cabinet Member for Culture and Customer Access said:
"The Langtons Summer Concert is always a popular event in Havering's cultural calendar and is now a summer staple that brings the community together.
"The restoration of Langtons Gardens and the specially commissioned floral version of the royal crown provided a beautiful backdrop for the music of the Westminster Philharmonic Orchestra."