Fun for all the family
There's a host of activities and events in Romford Market in the coming weeks to keep you entertained, refreshed and well-fed.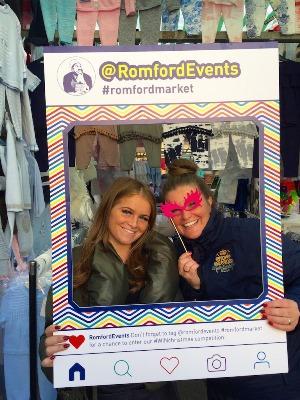 This Friday (28 October) Italia in Piazza is an innovative and authentic Italian Food Market comprising a number of mouth-watering stalls bringing you all the wonderful tastes you would expect to get in Italy, such as parmigiano reggiano, prosciutto, salame, olives and extra virgin olive oils, plus on-street performers delighting visitors with Italian themed entertainment.
There will also be a fantastic array of speciality pasta, including black squid ink and chilli pepper extra-long spaghettoni. Various types of tricolore pasta and many more other types of diverse pastas will also be on offer. The pasta on sale this Friday comes from Gargano in Puglia where they're renowned for producing high quality pasta.
The extra virgin olive oils and balsamic vinegars from Martina Franca in Puglia that will be on sale in the Italian Market are all produced from the first cold press. They have their distinctive flavours depending on the type and how they are produced. They can be used on salads or as dips with breads.
Italia in Piazza will be in Romford Market from 10am to 4pm on Friday and then moves to Hornchurch on Saturday 29 October when it will set up outside the Fratling pub from 10am – 4pm and then to Upminster on Sunday 30 October at Corbets Tey Road again from 10am to 4pm.
Until Saturday 29 October there's an opportunity for children to join the Colouring Clinic in the pop up entertainment area of the Market in front of St Edward's Church. A giant vision of the market created by artist Samuel Lindup will be on display for children to colour in.
On Friday just in time for Halloween festivities there will be a pumpkin carving workshop for the children and others young at heart and the chance to win £50 in shopping vouchers to anyone who visits the Romford Shopping Hall's Spooky Spectacular with their Jack O'Lantern. There's no charge for the pumpkin carving but donations will be collected and donated to the one of the local branch of Diabetes UK, one of the three local charities supported by the Mayor of Havering during her mayoral year.
Activities scheduled in future weeks include a Saturday kitchen with local chefs Mark and David Borrell on 5 November when children and parents will have the chance to create and bake their own pizzas in a wood fired oven; a lantern making workshop for children of all ages from Wednesday 9 to Saturday 12 November; Thursday 17 November sees the Christmas lights switched on, and on the following day there will be a Frost Fair lantern parade between 4 and 7pm.