Council Leader "extremely disappointed" with Ardleigh Green Bridge delay
The Leader of Havering Council, Councillor Roger Ramsey, has expressed his disappointment after Transport for London (TfL) announced that Ardleigh Green railway bridge replacement works could be delayed by up to two years.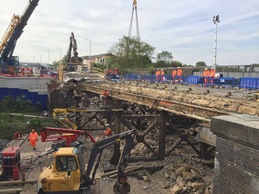 The works, which were due to be complete by the end of 2017, have been put back, with all four lanes of traffic due to re-open in spring 2019.
The project is taking place on the A127 which connects Havering with Essex.
Councillor Roger Ramsey said:
"We are extremely disappointed with this delay, which has caused disruption for residents and local businesses since 2015. Businesses have told us their trade has suffered as a consequence, and to extend the work further is completely unacceptable. If this work is extended until 2019, it will continue to have a negative impact on our local economy.
"I will be contacting the Minister for Transport and the Mayor of London to emphasise our frustration on behalf of businesses and residents."