Support the hidden children in Havering
Havering Council is appealing to people to contact them if they have someone else's child living with them. People may not realise they are in a private fostering arrangement, but if they are caring for someone else's child for more than 28 days, they need to inform Havering Council. This call to action coincides with Private fostering week 3 – 7 July.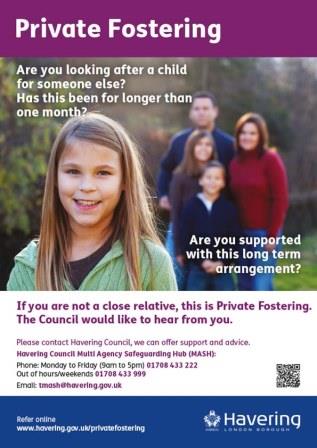 Councillor Robert Benham, Cabinet Member for Children & Learning Services, said:
"The council is appealing to people to let them know if they think a child in their community is being cared for by someone who is not a direct relative.
"Children's Services is here to help, support and provide assistance. No child in the community should be hidden or live unknown to the Council.
"Residents may be looking after a child on behalf of their friend, or have a private long-term arrangement in place with the birth parents, and not realise that support is available.
"Local residents should also contact the council if they suspect families/children are living in outbuildings."
Donna, who has been a Private foster carer for nine years, said:
"I have a young girl in my care who is no blood relation to me. Her mother and my children's father are brother and sister, but he doesn't live in our home. I decided to privately foster when the child was waiting for her mother's arrival to the UK, but unfortunately she was unable to come. The family decided it would be better for her to stay with us in the UK rather than return home to Africa with her mother.
"Once I contacted Havering Council, they provided both of us with our own social worker. This ensured any needs arising from the private fostering arrangement were identified and met. The council have supported me in pursuing court arrangements that give me parental rights for the child. I'm really pleased that after so many years, it has been agreed between her parents and me, that she will remain with us indefinitely."
For further information or advice: