Havering's bright young stars
Last week (Monday 10 July), 30 of Havering's most gifted young people were recognised for their hard work and talent across a range of cultural and sporting activities.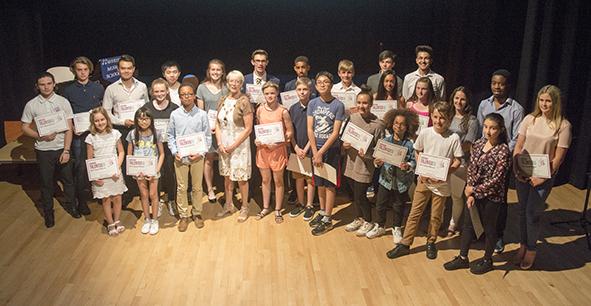 The Mayor of Havering, Councillor Linda van Den Hende, presented the winners, who were chosen by an independent judging panel, with the Havering Talented 30 certificates and awards for £200 to help gifted young people develop their skills and performance.
Winners in the sporting field included several medal winners from the Havering Hurricanes team, who finished sixth at the London Youth Games last weekend, two talented young female footballers, and several young people who have achieved international recognition.
Music field winners included the current Havering Young Musician of the Year – Keenan Ngo and Havering Junior Musician of the Year – Caitlin Chan.
Performers who study with the Royal Academy of Music, the Royal College of Music or Junior Guildhall also received awards on the night.
Mayor of Havering, Councillor Linda van Den Hende, said:
"These young people are amazingly talented and I'm honoured to present them with the award to help them develop their gifts. I hope that this award helps them to achieve their goals and inspire others. Our Borough actively supports cultural and sporting achievements and ceremonies like Havering Talented 30."
The awards ceremony, held at myplace Youth Centre, Harold Hill was sponsored by Havering Council.