Don't delay, apply today
Havering Council is reminding all parents or carers in the borough that school admissions for 2018 is now open online at www.havering.gov.uk/admissions for Reception and Year 7 school places.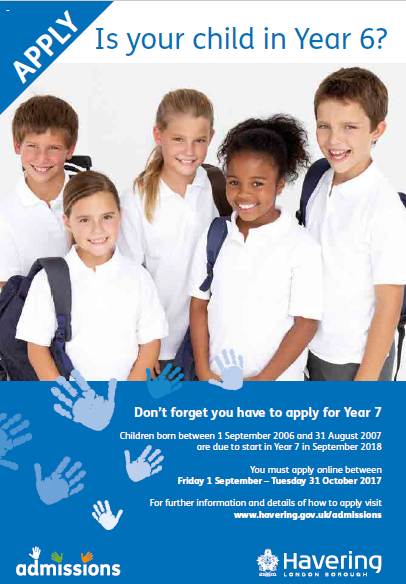 If your child is aged four or above from the 1 September 2018, you will need to apply for their Reception school place now.
If your child has just entered Year 6, you will need to apply for their 2018 Year 7 place now.
Councillor Robert Benham, Cabinet Member for Children and Learning, said:
"We wish to ensure all parents in the borough complete their online application on time, as some schools within the borough receive in excess of six times more applications than places available. If any parent has any concerns or questions, please contact the Havering Admissions Team via the website."
The Council advises that when deciding on either a primary school or secondary school to make sure you have read the individual school admissions criteria carefully. The criteria will help guide you on the possibility of being offered a place at your desired school. Criteria's help to shape the order of preferred schools listed on your online application form.
Don't miss the deadline
Year 7 closing date - 31 October 2017.
Reception closing date - 15 January 2018.
It is important for all applications to be received before the deadline; this ensures your child's application will be considered as an on time application.