New term - new friends
With children settling in to the new school year, Havering Council is reminding all parents to place close attention to who has access to their children. As Child Sexual exploitation can occur anywhere.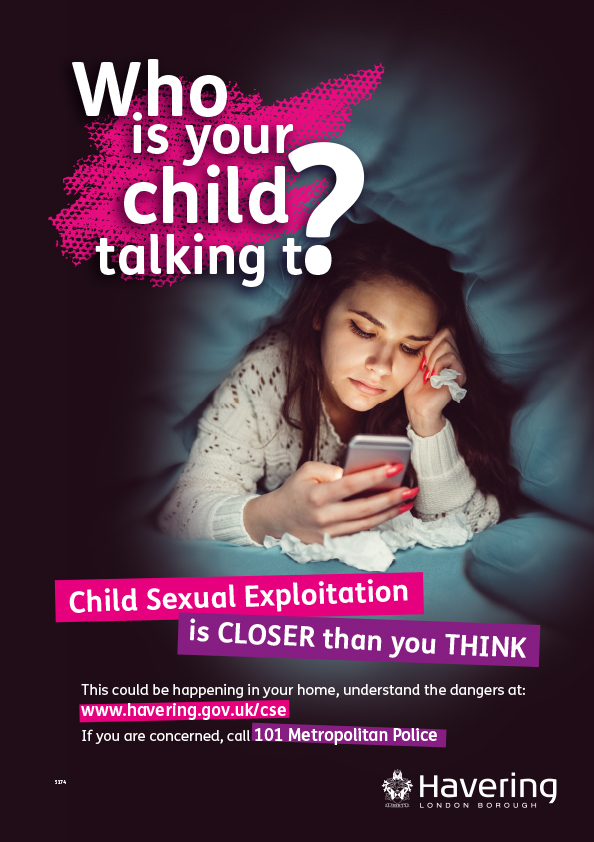 Many children and teenagers may have made new friends over the summer or enjoyed increased freedom. But with the darker evenings soon drawing in and kids spending more time online, parents need to remind them to be aware of who is contacting them and what they are sharing online.
If you're a parent please be vigilant as abuse can occur in the following situations
Via a mobile phone, app, or online game.
When children are in a group setting
With people we trust
Fun, relaxed environments
What is Child Sexual exploitation?
Child sexual exploitation is when a young person receives something such as food, accommodation, drugs, alcohol, cigarettes, gifts, money as part of a grooming process leading to abuse.
Young people often don't recognise that what is happening is abuse. Child sexual exploitation happens to boys and girls.
Spot the signs
strange phone calls and messages on their mobiles or via social media
Your child/teenager may bring home new, expensive items and can't explain how they got them
New circle of friends
Missing from home or school
Councillor Robert Benham, Cabinet member of Children's and Learning, said:
"Over the recent months, there has been increased awareness on Child Sexual Exploitation through Eastenders, Coronation Street and the BBC drama Three Girls as well as recent national news coverage.
Various programmes highlighted that Child sexual exploitation does not always happen in dark or isolated locations. It can happen in everyday places, town centres, via a partner or even whilst your child or teenager is at home. Parents should be aware that online sexual exploitation is a growing concern in London and Essex."
What to do if you are concerned parent carer or young person?
Report concerns at www.CEOP.GOV.UK, the police on 101 or email tmash@havering.gov.uk, for emergency's call 999.
Detective Superintendent John Ross, Head of Safeguarding at Romford Police station has the following tips:-

Know your child's friends, associates and where they live
Talk to your child; make them aware not to share sexual images of themselves via their phones.
Ensure you know where your child is when they are out with friends
Know what/who they are accessing online/through gaming consoles and help them keep safe by setting up parental controls and understanding their social media profile.
Talk to them about healthy relationships and healthy sexual relationships.
For further info, please view www.havering.gov.uk/cse