Parks Police hero honoured with Royal Award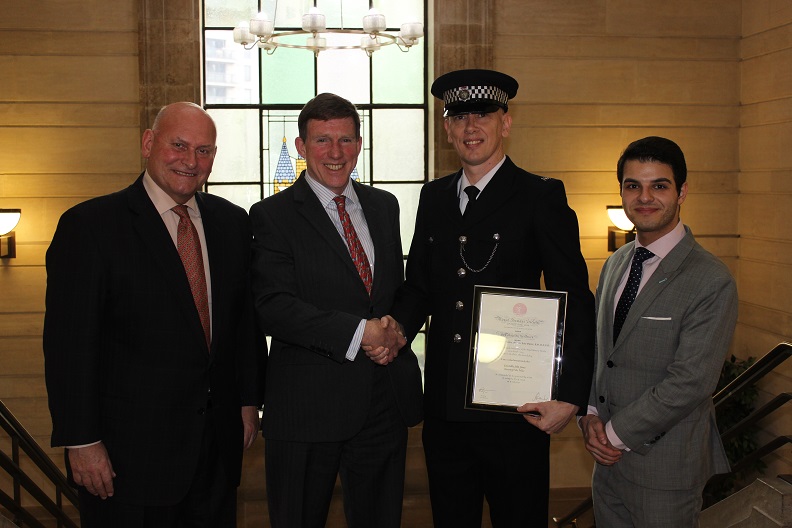 A member of the Council's Parks Constabulary has received a prestigious award after being recognised by the Royal Humane Society for saving the life of a man in a Havering park.
John Jones, helped in preventing a man who had already attempted trying to commit suicide in Hornchurch Country Park on 16 July 2017. John came to the man's rescue after he had tried to suffocate himself using a plastic bag. Thanks to John's swift and professional response, the man was able to make a full recovery.
At a ceremony at the Town Hall, Romford, on Monday 15 January, John Jones was presented with the Royal Humane Award, by Councillor Dervish, Cabinet Member for Environment and Andrew Chapman, Secretary at the Royal Humane Society. Councillor Wallace, Cabinet Member for Community Engagement, and Council staff also attended to see John receive his award.
John Jones, said:
"Receiving this award is a great honour. It reflects the kind of work and challenges my colleagues and I are faced with on a daily basis.
It's lovely to be recognised by both the Royal Humane Society and also the Management team at the Council."
Councillor Osman Dervish, Cabinet Member for Environment, said:
"On behalf of everyone at the Council, we are very proud of John and this incredible achievement.
"We're extremely grateful for the important and often testing job John and his colleagues do to keep us all safe in our parks."
Andrew Chapman, Secretary, Royal Humane Society, said:
"John Jones joins a pantheon of Royal Humane Society winners dating back to 1774 who have been awarded for their bravery and quick-thinking.
"The world is full of those who stand by and watch, and those who do. We can all be thankful for people like John, who with their special training and experience are able to think clearly and act quickly in emergency situations, and it's a pleasure for us all to be able to recognise his work."