Council calls on residents to 'Watch their Wasteline'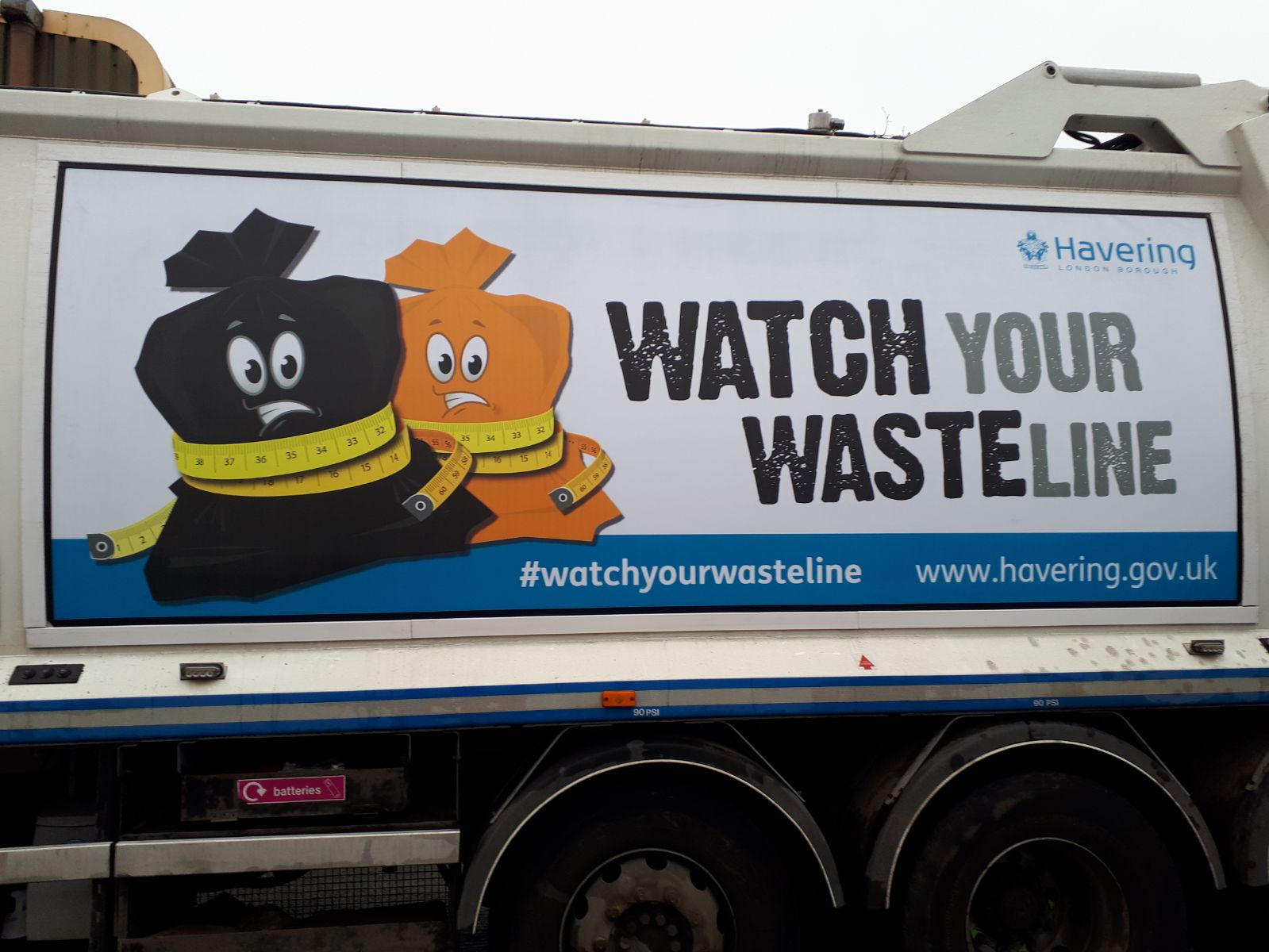 Havering Council launches a new look for local waste collection trucks to encourage residents to reduce their waste.
The council's new refuse truck design with the catchy strapline – 'Watch Your Wasteline', is part of the Council's efforts to reduce the amount of waste in Havering. Currently, up to 50 per cent of black bag rubbish in the borough is food waste, and it costs the Council just under £15 million to dispose of all waste.
Residents could also save an average of £60 per month, by reducing household food waste.
Assistant Director of Environment, Dipti Patel, said: "The 'Watch your Wasteline' look has been developed to remind residents to reduce their waste. It encompasses all the different ways our residents can reduce their waste, such as signing up to become a Local Green Points member or by taking part in one of our free training sessions that help you to save money and eat healthily at www.havering.gov.uk/reducewaste.
"The money we spend to dispose of waste in Havering can be spent on other crucial frontline services, so I encourage all residents to 'Watch their Wasteline'."
Four ways residents can reduce household food waste:
Fruit and vegetables in particular, are often unnecessarily packaged. Try and buy loose fruit and vegetables. This can also help to reduce carbon dioxide to the atmosphere in the UK from food transport.
Know your dates - Checking dates saves money. Food can be eaten right up to a use-by date or frozen. Best before dates are for quality so there is no need to throw out food on the stated date - eggs being the exception.
Be creative with your leftovers – this is a clever way to save money and make what's in the fridge go further.
Perfect portions - It's very likely we've all got the perfect thing for measuring a portion of rice, pasta, or potato in our kitchen. A regular mug works for rice and a mug of uncooked rice is the right amount to feed four adults. Try the Portion Calculator at www.lovefoodhatewaste.com