Dementia Action Week - Support across the borough
In the UK, one person develops dementia every three minutes. Yet too many people living with dementia face the condition alone and excluded from society.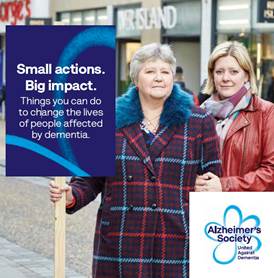 This Dementia Action Week, Havering Council is asking you to continue your amazing efforts to make a difference to the lives of people with dementia.
During the week there will be a range events for people with dementia, carers or anyone interested in finding out more information regarding the services available.
Residents are invited to attend various activities including information sessions, virtual reality tours, drop-in clinics, or a dementia friendly performance of Priscilla Queen of the Desert at the Queen's Theatre, all from 21-27 May
These events aim to highlight the support available in Havering for those with, or supporting people with dementia.
Tuesday 22 May
Information Stall with Alzheimer's Society in the Mercury Mall Shopping Centre.
Tapestry launch event at HOPWA House, Inskip, Drive, Hornchurch, RM11 3UR, 4PM. Your welcome to tour the building, enjoy the tasting menu and receive presentations from the Mayor of Havering, Councillor Linda Van Den Hende.
Wednesday 23 May
Transport Roadshow - Look out for our transport fleet who will be touring the borough in association with Dementia Action Alliance. Tesco – Roneo Corner – 10am to 12 noon and Tesco - Gallows Corner – 1pm to 3pm.
Thursday 24 May
Dementia Advisory Drop-In Clinic - Come to HOPWA House Wellbeing Centre and meet our dementia advisory team for advice on getting the support you need, 9.30am to 12noon - No booking required.
Will & Lasting Power of Attorney Seminar with Pinney Talfourd - Find out what you need to put into place to ensure your affairs are in order, 1.30pm - Book your place today on 01708 796 600.
Priscilla Queen of the Desert Performance at the Queen's Theatre which is a dementia friendly performance. LBH and HDAA information stall in the foyer.
Friday 25 May
Tapestry Carers Information Session at HOPWA House - Find out what services we offer to help and available support carers for carers from 3-4pm Book your place on 01708 796 600. Tapestry will be launching their reminiscence space at HOPWA and 2 new sensory rooms at Painesbrook and HOPWA.
Sunday 1 July
Silver Sunday Event at Tesco's Roneo Corner, Hornchurch.
For further support surrounding dementia visit http://www.alzheimers.org.uk