Junior citizens learn how to be street wise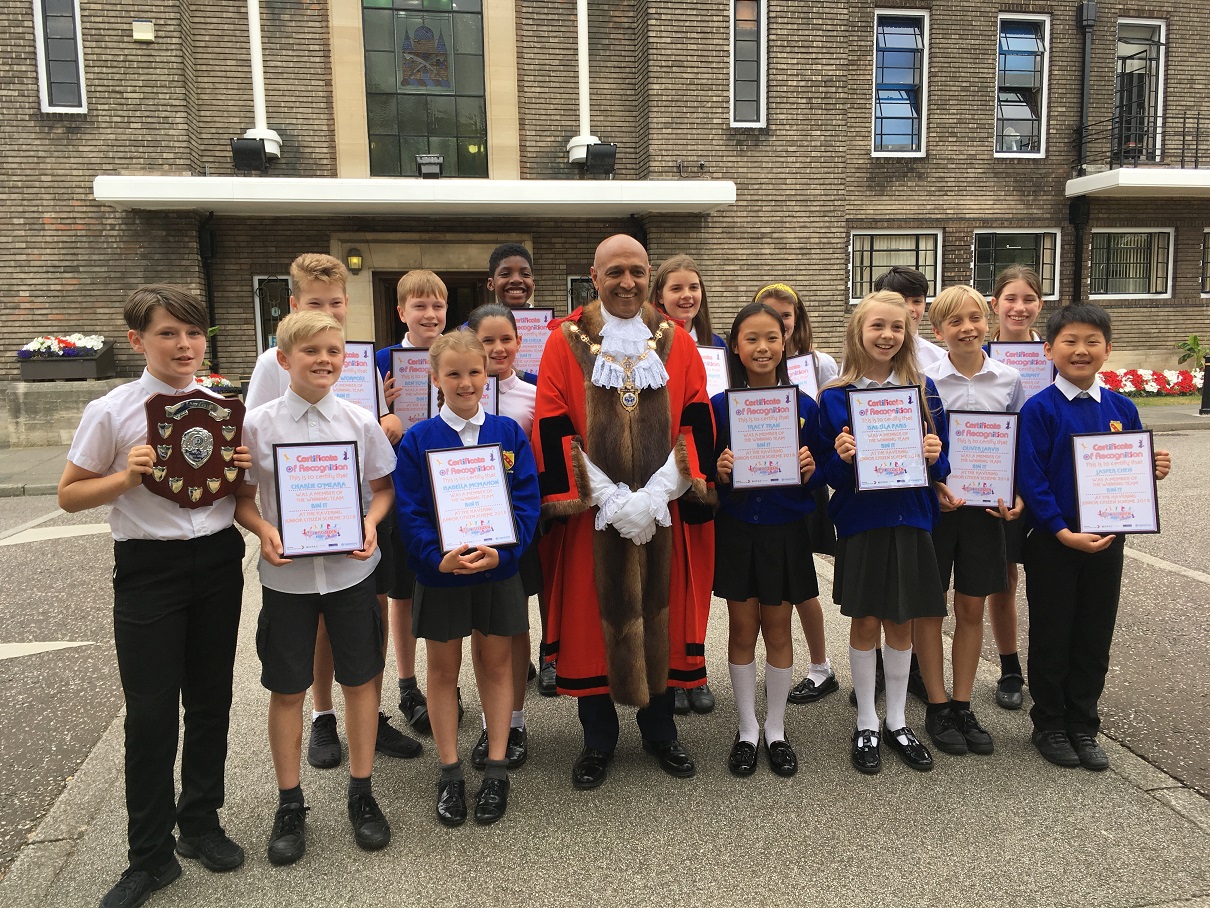 Around 2,000 pupils from 30 schools across the borough have been learning life skills teaching them how to protect themselves against knife crime, drugs, and other potential issues, as part of the Junior Citizen Project, run by Havering Council and local police.
Year Six children took part in a number of sessions over two weeks in June and July, led by council staff, Havering Police, the London Fire Brigade and other organisations such as road safety.
Each day, pupils were faced with different challenges related to hate crime, drugs awareness, knife crime, littering, road and transport safety amongst others.
They were awarded points for expressing their knowledge gained during the workshops and the way they interacted with each other and those representatives from the emergency services.
The school with the most points was Branfil Primary School, Upminster, who were all invited to join the Mayor of Havering, Cllr Dilip Patel for lunch at the Town Hall, this week, where they collected certificates and medals.

Junior Citizen was created in order to educate young people at a crucial point in their educational and social development right before they move into secondary school.
It was deemed a relevant time for the pupils to take part as this is when young people are likely to start travelling alone for the first time and possibly face a greater exposure to issues such as drugs.
Councillor Patel, Mayor of Havering, said: "We are very proud to host another year of the Junior Citizen project, which is aimed at looking to make sure our children across the borough are kept safe and learn new skills.
"It is also an important time in their lives as they prepare to take the steps up to secondary school, where they will be faced with new challenges in both their school life and personally.
"We want to ensure they are as fully equipped as possible with knowledge and are confident enough to be able to ask questions and have an understanding which will make the transitions they face much smoother."
Detective Superintendent Shabnam Chaudhri, Havering Police, said: "The Junior Citizen project is an invaluable opportunity for young people to interact with the police and our partners in a positive environment.
"This generation is growing up in a world where social media is at the forefront of our society and so the challenges faced by all young people is much more prominent.
"We want them to have an understanding so they are not afraid to challenge something they don't think is right. We also live in a multi-cultural community, where it is important that people learn about each other so there is an understanding that allows us to embrace diversity and difference.
"This project is playing a vital part in educating our young people early on and allows them to take these life skills into adulthood."