Havering is Breastfeeding Welcome
Havering Council is launching a Breastfeeding Welcome scheme and is encouraging cafés, restaurants and other local venues to register.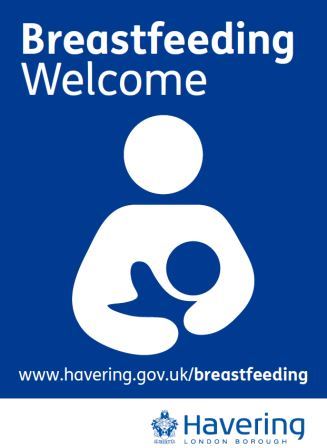 Mothers have the legal right to breastfeed anywhere, in accordance with the Equality Act 2010, but poor facilities and negative responses can sometimes make this difficult.
In a Start4Life poll, 72% of respondents said they support public breastfeeding, yet 34% of women reported feeling uncomfortable and embarrassed to breastfeed in public spaces.
The aim of the Havering Breastfeeding Welcome scheme is to:
make it easy for mums to find welcoming and supportive places to breastfeed
recognise businesses and organisations for promoting and supporting breastfeeding
Councillor Frost, Cabinet Member for Health and Adult Care Services, said:
"This scheme is all about removing the stigma that some people associate with breastfeeding in public places. The more mums who breastfeed in public, the more normalised it will become - which can only be a good thing for the health of both mother and baby".
To find Havering Breastfeeding Welcome venues, look for the logo displayed in the windows of cafés, libraries, children's centres and other public venues around the borough or go to www.havering.gov.uk/breastfeeding.
Members of the public are encouraged to prompt their favourite coffee shops and other meeting places in Havering to register on the website.
Havering Council's Early Years Practitioners will be joined by Health Visitors and mums from local organisations LatchOn and the Maternity Voices Partnership on Thursday 19 July in The Liberty Shopping Centre, providing information on the scheme alongside advice and support on infant feeding.