Clean-up brings community together in Harold Hill
Volunteers recently joined Havering Council staff and councillors with brooms and litter pickers at a clean-up event at the Hilldene shopping area in Harold Hill.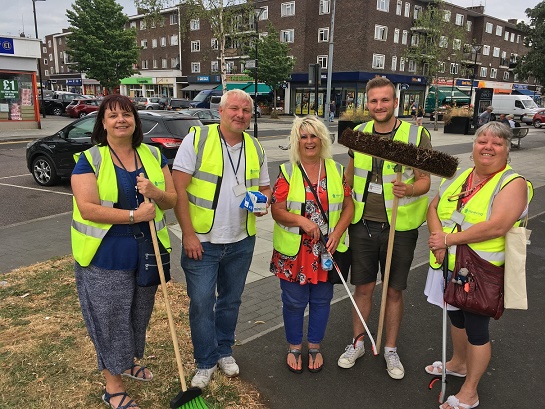 Following concerns raised by residents, businesses and ward councillors about the level of litter on the streets, the event was held to highlight the untidiness of the area surrounding the shops, with the aim to encourage visitors and residents to think about where they put their rubbish and take pride in their local shopping area.
The Council wants to encourage more people to get involved with keeping their communities cleaner and tidier. Around ten volunteers joined Council enforcement officers, community engagement officers, businesses and ward Councillors to pick up rubbish.
Armed with litter pickers, brooms and shovels, everyone did their part in clearing the area of litter that had been blighting the area. The group were also joined by residents on the day who were passing by and wanted to join in with the clean-up effort.
Councillor Osman Dervish, Cabinet Member for Environment, said: "This is an example of a local community working together with the Council to keep the area in which they live, work and go to school cleaner and tidier.
"A daily street sweeping operation is undertaken by the Council, but we want to encourage residents to have pride in their surroundings and help us to keep our neighbourhoods cleaner. We hope that this will make others stop and think about how they dispose of a cigarette butt or a crisp packet.
"We want to hear from our residents on where they think issues occur consistently and for them and their neighbours to join forces to improve their streets and local area, potentially organising their own clean-up events, so we can continue to make Havering a cleaner and tidier borough."
Residents are urged to inform the Council about consistent environmental issues such as fly-tipping, excessive litter, dog fouling and waste amongst other things. The more on-the-ground information we have, the easier it is to investigate, and take measures to reduce the problems.
Tell us about where there are regular problems