Havering students celebrate 72 per cent GCSE pass rate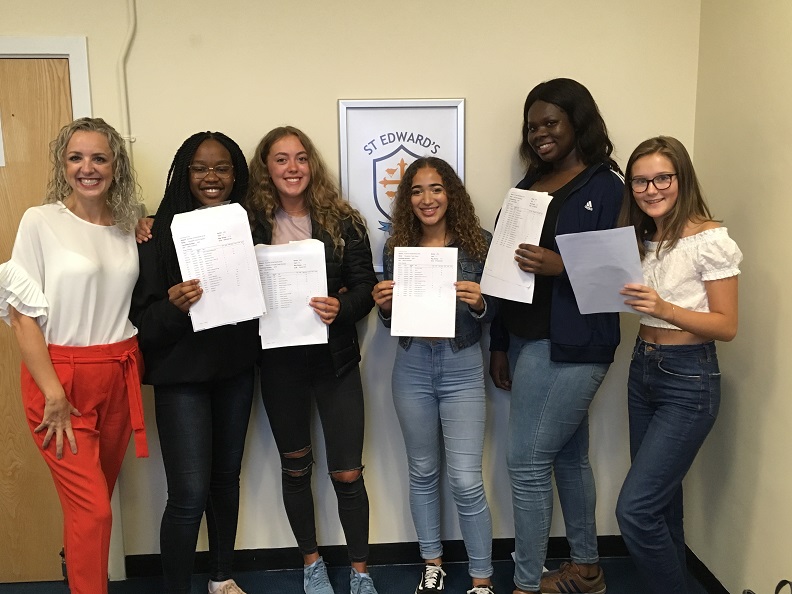 Pupils at St Edward's Academy celebrate their GCSE results
Students across Havering were jumping for joy after the borough received a 72.4 per cent pass rate for GCSE results.
Students achieved a 68 per cent standard pass in English and maths, which was well above last year's 59.1 per cent national average.
Cllr Damian White, Leader of Havering Council, said:
"We're really proud of our students who have achieved a fantastic 72.4 per cent pass rate, with nearly half of them (45 per cent) receiving a grade of seven or above.
"Six of our students performed exceptionally, receiving perfect scores across eight subjects.
"Many of them will now be deciding what to do next. Some will be going onto sixth form or to do apprenticeships or vocational courses. I wish them every success for the future."
At St Edward's Academy in Romford, pupil Abi Hyde was among those to achieve one of best scores in the borough, with eight grade 9s, which is higher than the previous A* grade. The school paid a special tribute to a total of six of their pupils, who received between four and eight grade 9s.
Headteacher Jodie Hassan hailed the students and their results. Seventy per cent of the school's students achieved grade 5 or above in English Language and English Literature, and overall nearly half of all students in Year 11 achieved the new government measure of a strong pass (grade 5 or above) in both English and maths.
Mrs Hassan, who took over at St Edward's in April, said:
"Students and staff are rightly proud of these excellent results after all of our hard work. We have many wonderful success stories to applaud. Our students are placed in the perfect position for continued academic success in St Edward's Sixth Form and beyond".
Princewill Ukpeh, who received five grade 9s, said he was amazed that he had done so well.
He said: "I really didn't expect this and am really pleased with the results."
He now hopes to study maths and sciences at sixth form.