Mayor "poppins" in to Havering College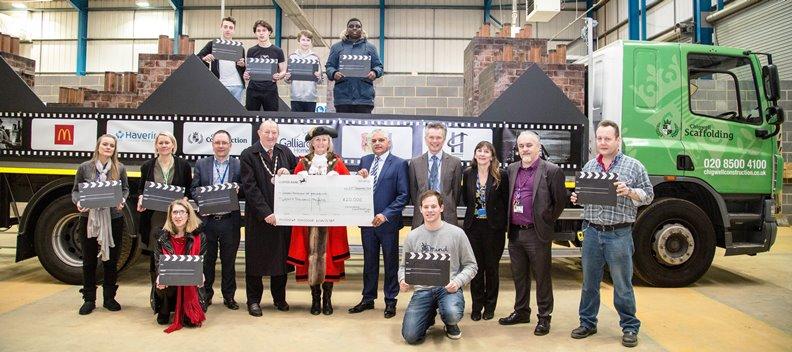 The Mayor of Havering paid a visit to Havering College's Rainham Campus Construction Centre on Tuesday (20 December).
She was there to see the float that students have been building in preparation for London's New Year's Day Parade and to thank the sponsors who have made it possible.
The Mayor, Cllr. Philippa Crowder, and her Consort Cllr. John Crowder, along with representatives of the local charities that the Mayor is supporting during her Mayoral year, met students and teachers from Havering College and the float's sponsors.
Mr Ammo Singh on behalf of Chigwell Construction, the company that is the main sponsor of the float, also presented the Mayor with a cheque for £20,000 as part of their support for the Mayor's 2016/17 Charity appeal.
Mr Singh said:
"As one of the leading local construction companies it was good to see construction students from the college playing a key role in working on the float. We are proud to offer apprenticeships to students from Havering College and to be the major supporter of the Havering float in London's New Year's Day Parade."
Cllr. Philippa Crowder said:
"I was so pleased with the work that has been put in on the float by the students and all the sponsors, Galliard Homes, Harold Wood Funeral Services, McDonald's Romford and especially Chigwell Construction Ltd who have been so generous in providing a truck for the float and their wonderful donation of £20,000 towards my charities. I'm keeping my fingers crossed that we do well when the floats from all the London boroughs are judged and win even more money to support my charities!"
The slogan for this year London's New Year's Day Parade is "lights, camera, action" and Havering's float will see the classic film "Mary Poppins" brought to life on the streets of central London on January 1st.
If you would like to support the float and see the parade it starts at 12 noon on Piccadilly, and then heads via Piccadilly Circus, Lower Regent Street, Waterloo Place, Pall Mall, Cockspur Street, Trafalgar Square, Whitehall to Parliament Street.