New code aims to reduce street clutter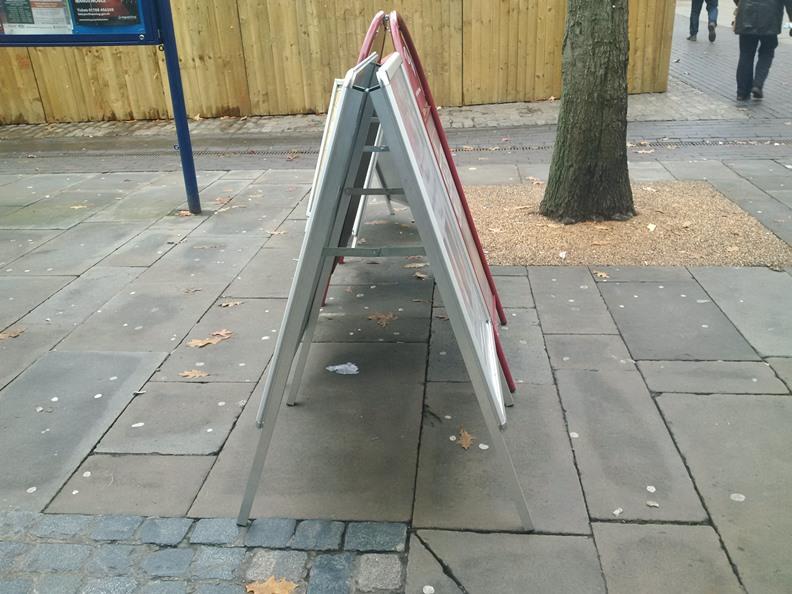 A new Code of Practice for the use A-board advertising signs outside shops and offices in Havering has come into effect this month.
It is designed to help reduce street clutter and make it easier for people with disabilities, pushing prams or buggies, or using mobility vehicles to use the borough's footways.
The move follows a public consultation on the issue in 2013 which showed that over 62% of respondents thought the number and type of A-boards should be managed, but the majority didn't agree that there should be a licensing scheme imposed.
Havering Council has listened and will not be charging for the use of A-Boards but will enforce a Code of Practice that has been drawn up with clear guidance on how the boards should be used. There will be a limit of one A-board per business not exceeding 1.2 metres high 0.75 metres wide. The boards must relate directly to the business in front of which it is situated and must be removed from the public footway when the business is closed. There must be a minimum of 2 metres of clear space between the A-board and the edge of the pavement.

To explain the new Code of Practice the Council is writing to all applicable businesses explaining the reasons for the introduction of this Code of Practice. Businesses not complying with the Code will be visited by a Council Officer who will remind them of the Code and give a written warning that enforcement action may be taken.
From 1 February 2017 businesses not complying with the Code will have warning stickers applied to their A-boards and should they not be removed they will later be removed and taken into secure storage for a maximum period of 14 days. If not claimed within that period they will be sent for disposal. Fees for non-compliance with the new Code of Practice will range from £110 for the removal of a sign to a total of £200 if removed and not collected within 14 days. It is intended that the scheme will be policed using current Council resources and the costs of enforcing the scheme met from the fixed penalty notices issued.
Councillor Osman Dervish, Havering Council's Cabinet Member for the Environment said:
"If businesses comply with the new Code of Practice they will be able to advertise while ensuring our borough's footways will be clearer for pedestrians and there will be no charges. However if some businesses choose to put out unauthorised signs on the public highway or fail to comply with a Code of Practice that has been drawn up after extensive consultations then they should be prepared for us to remove the signs and charge them for doing so."
For more information on the Code of Practice go to www.havering.gov.uk/A-boards