Work underway on carbon neutral community centre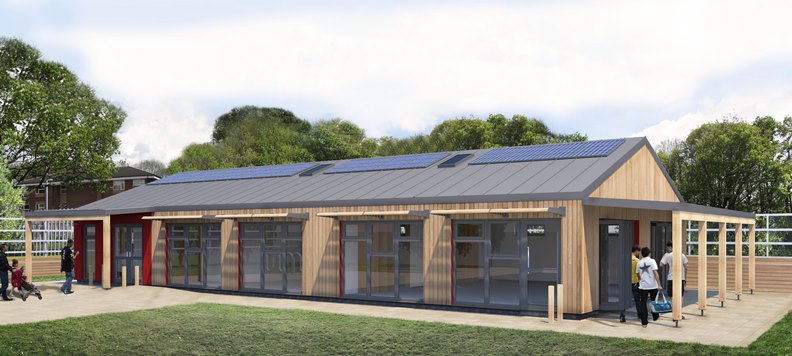 The diggers have moved in and work has started for the construction of a new community centre behind Highfield Towers in Collier Row.
This week's groundbreaking ceremony involved Deputy Leader of Havering Council and Cabinet Member for Housing, Councillor Damian White; Romford Member of Parliament, Andrew Rosindell; Ward Councillors Ray Best and John Crowder along with members of the Highview Residents' Association.
The new centre will be carbon neutral with solar panels contributing to the power for the anticipated electricity demand in the building, a ground source heat pump with a bore hole up to 200 metres into the earth to generate heating for the centre and rainwater capture so the grey water can be used for flushing toilets, watering the landscaping areas etc.
The pre-fabricated building is now under construction by Northamptonshire based Scotts of Thrapston, specialists in the design, manufacture and installation of such buildings.
The finished community centre will include a large hall for events and be put to good use by local organisations alongside a kitchen, toilets and an office. The building will be fully accessible for people with disabilities.
A play area for children under 10 years old will be created next to the new building. This is being partly funded through the Housing Revenue Account as well as a £10,000 grant from the Tesco Bags of Help fund which allocates the 5p paid when buying disposable carrier bags to local good causes.
Deputy Leader of Havering Council and Cabinet Member for Housing, Councillor Damian White, said: "The pre-fabricated design of this centre means we can build quickly with the construction work due to be finished by July this year and the new centre opening shortly afterwards.
"It is good to see work getting underway this week and we are looking forward to this eco-friendly community centre being put to good use by local residents and community groups."
For more information and to watch the groundbreaking ceremony video visit Sapphire community centre.