Havering Talented 30
Thirty of Havering's most gifted young people received recognition for their talents in a range of cultural and sporting activities at the 2018 Havering Talented 30 awards evening at myplace Youth Centre in Harold Hill on Monday 9 July.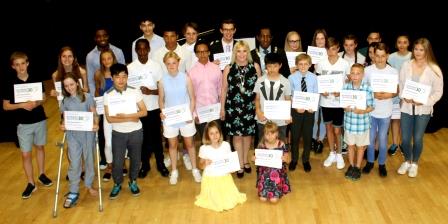 Deputy Mayor of Havering Councillor Michael Deon-Burton and Deputy Mayoress Councillor Christine Vickery presented the winners with Havering Talented 30 certificates and awards for £200 to help them further develop their skills.
The winners, selected from more than 90 applications, were chosen by an independent judging panel.
The diverse range of talent included awards for young people involved in archery, literature, cheerleading, badminton, diving, street dance, ice hockey and distance running and music performance ranging from violin to piano, bassoon and percussion.
In the sporting field, awards went to a number of medal winners. From the Havering Hurricanes team who competed in the London Youth Games at Crystal Palace National Sports Centre last weekend, two talented young footballers and several athletes achieved international recognition in their age categories.
Winners in the field of music included several members of Havering Music School and talented performers who have progressed to study with London's leading music schools, the Royal Academy of Music, the Royal College of Music or Junior Guildhall.
Councillor Viddy Persaud Cabinet Member for Public Protection and Safety, said:
"This group of young people have a vast array of talent between them, and I'm thrilled that we can honour them and give support to reach their full potential."
The Talented 30 awards are sponsored by Havering Council, which established the scheme in 2008 as part of the run up to the London Olympics and Para Olympics.
During the evening, the audience was treated to performances by musicians Benjamin Belay, Thomas Warner, Alexandra Hopkins, Charles Campbell-Peek and a reading by young writer Rose O'Brien.
2018 winners
Alexandra Hopkins
Talented musician who performed at the 2018 Mayor of Havering's Variety Show at the Queens theatre, Hornchurch.
She is taking her grade 3 cello and preparing for her Dean's Award from the Royal School of Church music.
Alfred Chung Fung (Alfred Tse)
With a distinction in grade 5 piano and merit in grade 3 violin, Alfred is preparing for his grade 6 piano in July, grade 4 violin and grade 5 bassoon.
In 2017 Alfred received the Margaret Parson's Shield award and first place with his piano trio group at the Stratford and East London Music festival.
Beatrice Caballero
Beatrice is working towards her grade 6 violin, flute and piano and grade 5 orchestral percussion and won several awards at the 2017 Stratford and East London Music festival.
Benjamin Belay
Benjamin completed his GCSEs while working hard on his musical achievements.
This July Benjamin will play violin alongside the London Symphony Orchestra at the Barbican Hall.
He recently played at the Royal Festival Hall as part of his percussion group. Benjamin is working towards grade 7 and grade 8 percussion.
Charles Campbell-Peek
Charles plays double bass, violin, piano and trombone and is working towards his diploma in double bass.
He recently joined the Essex Youth Orchestra and played at Chelmsford Cathedral and Saffron Hall. He is preparing for his Grade 8 violin exam in the summer of 2018.
Christopher Cheung
In 2017 Christopher achieved grade 5 violin, grade 4 piano and grade 5 music theory and won the Stratford and East London Music festival. Christopher has been chosen to be part of the 2018 LSO On Track Activate programme while working towards violin and piano exams.
Daniel Hitchings
Daniel will return to play ice hockey for Romford U18s next year having recently played for Chelmsford and Guildford.
A London Raiders prospect, he represented the tournament winning South East U15s in Sheffield and also represents South East U17s.
Daniel is assistant captain of GB U16s and is a trained referee. He aims to complete his Level 1 coaching award to allow him to help younger players.
Dominic Alexandru
Dominic represents Havering Athletics Club in U13 'A string' hurdles, high jump and sprints and captains the relay team.
He raced at the opening of the Muller Anniversary Games in July 2017 and is ranked 1st in the UK for U13 boys 75m hurdles and 2nd in the UK at high jump for U13 boys.
He broke his own Havering AC record in May 2018 placing him 7th in the all-time list for U13 hurdlers.
Dominic also represents his school Coopers Company & Coborn in athletics, badminton, tennis and gymnastics.
Emilie Cheung
Emilie is a high achiever in both dance and music.
In February 2018 Emilie achieved her Grade 6 Classical ballet, then her grade 5 tap in April 2018.
Whilst continue to work towards her examinations in dance, Emilie has also achieved her grade 6 in viola, grade 7 piano, grade 5 flute and grade 4 singing.
Emilie now plans to continue working towards her next examinations in both dance and music as well as participating in concerts and workshops over the coming months.
Emma Nichols
Emma is ice hockey netminder for Chelmsford U15s and Bracknell U16s where she has not lost a game for 4 seasons, topping the stats for her age group with a 95 per cent save rate.
She played for the GB U16s in the World Global Games and was selected for the England U17 women's team to play in Bratislava.
She has also been selected for the GB U20s women in Ball Hockey for the World Championships in the Czech Republic.
Her ambition is to make the full GB women's team and play at the Winter Olympics.
Hannah Giddings
Hannah achieved honours in her International Dance Teachers Association exams and passed auditions to perform at Disneyland Paris in August 2018.
She was third in solo performance at the United Dance Organisation national street dance championship qualifying for a Six Nations event in November 2018.
In addition to dance training, Hannah is committed to her drama and singing group with whom she has performed at the Royal albert Hall and Kenneth Moore Theatre.
Jacob Blanc
Jacob broke Havering Athletics Club's record for 75m hurdles, earning him 5th place in the UK in his U13 age group.
He is ranked 4th for high jump in his age group and is part of the Youth Development League coming 3rd in the National Final.
Jacob is also a Level 6+ gymnast for Catleaps Gymnastics Club in Upminster where he is also a volunteer to help develop his own talents and those of others.
Jamal Thomas
Sanders School student Jamal has broken borough records for high jump.
His personal best is currently at 1.84m and he is ranked 6th in Britain at U15s. He has qualified for the English Schools Athletics Competition.
Jonathan Akerman
Jonathan has received a scholarship offer to study percussion at the Guildhall.
He also won all 3 of his classes at the Stratford and East London Music festival and received a First Outstanding in jazz piano, marimba and snare drum.
Jonathan also plays water polo at his school and reached the English Schools Swimming Association national final.
Jonathan Belay
Jonathan is one of only 6 people in the UK who have received an unconditional offer to study at Harvard College.
Whilst studying for his A-levels, Jonathan has achieved distinctions in both grade 8 guitar and piano and a merit at grade 8 violin.
Kieran O'Hara
A member of Havering Athletics Club, Kieran specialises in Cross Country and middle distance running.
Registered as an international athlete with learning difficulties (T20) he also runs in mainstream athletics for his club and won gold in the Essex Cross Country Championships for U20 men.
Kieran has won many disability athletics titles including gold (whilst still a junior) in the mile at the prestigious England Athletics Senior Disability Championships.
Kieran recently addressed an All Party Parliamentary Group in Westminster about elite sport for people with learning difficulties.
Liam Purton
Liam is ranked Badminton no 2 in Essex for mixed doubles and is in the top 5 for singles and doubles.
He helped his school, Coopers Company and Coborn win a bronze in the National Schools and represented Havering in the London Youth Games.
In the last 12 months he has played in Croatia, Malmo, Helsinki, Antwerp and Cologne and won many medals including golds in the Hertfordshire U15 doubles and Kent U17 mixed doubles.
Maddie Biggs
Captain of Frances Bardsley Academy's football team, Maddie is a member of the Essex FA Regional Talent Club and the FA Regional Development Programme for Elite Female Players.
In December 2017, Maddie was selected for the England U15 Women's team training at Bisham Abbey and played 2 games for England U 15s in Switzerland and 2 in Belgium.
She hopes to be selected for the U16 England Team this year and continue her development through the regional programme.
Max Law
Competing for Havering Athletic Club, Max is unbeaten in Javelin in 2018 and is ranked No 1 in the UK.
Max has set various County records and was 2nd in the English Schools Championships as well as holding the English Age Group Championship a title for 3 years.
Invited to the Loughborough International Meeting, he threw 71.91 metres which exceeds the GB Athletics Team National Standard by nearly 3 metres.
Max Spencer
Max won gold by nearly 100 points in the London Youth Games in July 2017, followed by a trio of medals at the Southampton Individual Competition in October.
He ranks 5th for his age nationally after an outstanding performance at the British Junior Elite Diving Champs.
Michael Caballero
Michael achieved distinctions in his recorder and piano exams, and is now working towards his diploma in recorder, grade 8 piano and clarinet.
Michael Hollette
A music scholar at new hall school in Chelmsford, Michael is taking A level music, Spanish and Maths.
He attends the Royal College of Music every Saturday gaining distinction and merits at grade 8 in violin, orchestral percussion and bassoon.
In March 2018 Michael made it through to the woodwind category of the BBC young musician of the year competition.
Natalie Sewell
Essex Schools and County Cross Country Champion, Natalie is also 1500m Essex Schools Champion and finished 2nd in the Essex County 1500m.
She was part of the Havering U13 winning team at the London Mini Marathon finishing second individually and 5th in the London Youth Games Cross Country.
Her goals include trying to achieve a sub 4:50 1500m and a top 10 finish at English Schools.
Rebecca O'Rouke
A member of Havering Athletics Club since 2015, Rebecca was spotted by British Athletics in 2017 while competing in the London Youth Games Para Athletics.
Officially classified as a T20 para athlete she was ranked 3rd in the UK in 2017.
This year, Rebecca has set 3 new personal bests for 1500m and is currently ranked 2nd in the UK for T20 class at 1500m and 800m.
She hopes to be among the medals in the Mencap National Championships, the National Junior Champs and the England Age Groups Disability Champs.
Rhiannon Easton
A Junior Master Bowman, Rhiannon trains at Noak Hill Archers. She holds 10 Essex Junior County records and is part of the Archery GB National Age Group Academy for Under 18s.
She is Havering and Essex Girls U16 Champion and South East Counties U18 Champion.
She is one of 12 young ladies in the GB Academy being coached towards future representation for England and Great Britain.
Rose O'Brien
An exceptional writer, Rose writes for a wide range of purposes, adapting her writing to match the features of each piece through carefully selected vocabulary choices evoking different emotions in the reader.
Rose will use her award to attend a creative writing course to develop her skills
Ruby Alice Mace
Footballer Ruby has played for Arsenal for seven years and has captained England U15s three times.
She scored her first international goal against Switzerland.
She also excels at hurdles and finished 3rd in England as well as breaking Havering Athletics Club's indoor record this year.
Her school Coopers Company and Coborn recently presented her with their 'potential for success award' for her football achievements.
Samuel Gulvin
A Junior Master Bowman who attends the GB Archery Training Centre Programme.
Samuel has only been competing in Archery for 2 years but represented Havering at the London Youth Games and is now ranked 7th in U18 boys in the county.
He is U12 UK National Indoor Champion, Essex Champion (U12) and Southern Counties Champion (U12) having broken 12 Essex outdoor records.
Scarlett Folan
A member of cheerleading team, Ascension Eagles Cheerleaders and the UK Cheer community with Team England, Scarlett competes in the advanced division where her team received the silver medal in her first world's competition.
Scarlett is aiming to compete in the 2019 ICU world championships.
Thomas Warner
With distinction in grade 7 Oboe and merit in grade 6 piano, Thomas is working towards grade 5 percussion and grade 8 recorder.
He recently had the opportunity to play with the National Youth Orchestra featuring musicians from the Los Angeles Philharmonic Orchestra.