Council and police in crackdown on weapons and drugs
Weapons, including knives, along with drugs have been seized in a joint operation between local police and Havering Council, in Elm Park.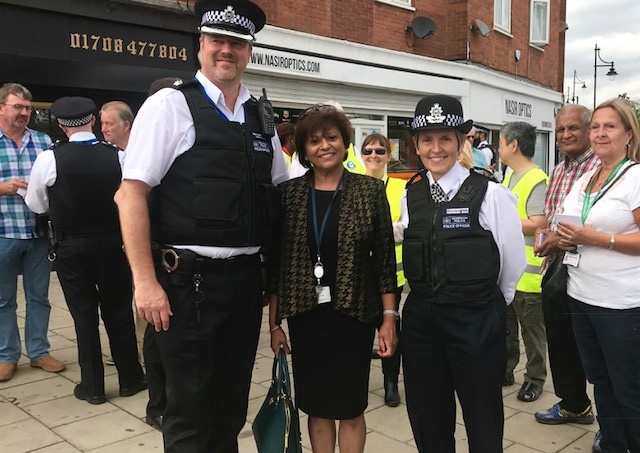 Superintendent John Ross led around 50 officers and was joined by Metropolitan Police Commissioner Cressida Dick, who visited the borough during the high-visibility patrol, on Wednesday (15 August 2018). The Violent Crime Task Force was also involved in the operation, aiming to tackle crime in the borough.
Also present were Councillor Viddy Persaud, Cabinet Member for Public Protection and Safety, ward councillors, Street Watch Havering and local businesses.
It follows a Council-funded operation, supported by local police that saw specially trained drugs dogs and their handlers patrolling Romford Town Centre last Friday night (10 August 2018).
This was in addition to the Havering Youth Bus, which was out in Arcade Place on the same evening, giving advice to young people, helping to keep them safe from the threat of crime. The initiative is run in partnership with the Council's community safety team, youth service and McDonald's.
Councillor Viddy Persaud, Cabinet Member for Public Protection and Safety, said: "Havering Council works closely with police and community groups on a daily basis to tackle crime and the threat of crime. Our priority is always to protect our residents so they can live, work and go to school as safely as possible.
"We also want visitors to our borough to come here and enjoy what Havering has to offer in a safe environment.
"Operations like this are important and support further the work that is going on as we look to take the strongest action in making sure we keep Havering safe."