Get your skates on in Romford's Market Place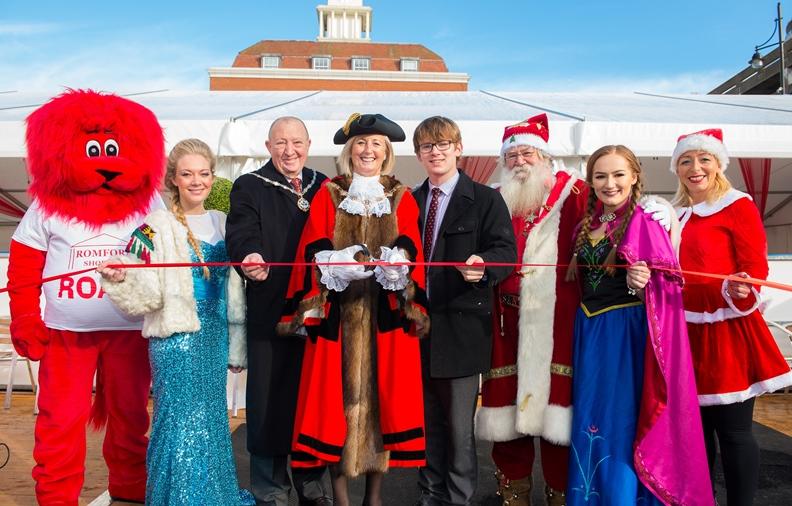 A new covered ice rink has been opened in Romford's Marketplace by the Mayor of Havering, and the opening celebrations also saw the return to Romford of the Raiders ice hockey team.
The rink gives Havering residents an early foretaste of the fun that can be had on ice as Havering's new permanent ice rink will open in May 2018, as part of the multi-million pound leisure centre on Western Road Romford.
The covered ice rink at the clock tower end of the Market Place, operates seven days a week across the festive season, (except for Christmas Day, Boxing Day and New Year's Day) and will close on Sunday 15 January.
The rink has a capacity for 130 skaters per hour and will be open to anyone over four years old. Trained staff will be on hand to supervise the skating at all times. There are special rates for children's organisations and groups wishing to book sessions on the ice for just £5 per child.
The Raiders, who were formed and previously played in Havering and in the National Ice Hockey League were among the first people to take to the ice in the temporary rink. After the Raiders demonstrated their skills, lucky winners of a Time FM competition skated for free with the Raiders players.
John Scott, Director of The Raiders said:
"It's the Raiders 30th season this year and despite playing at Lee Valley for the last 4 seasons the players, management and fans all have very strong links with Havering. The team was formed back in 1987 and the local fans and players enjoyed some fantastic times and cherish many wonderful memories from playing in the borough. Having this temporary facility gives us a taster of what it is like to be "back home" and we were delighted to take part in the opening."
Hot stuff from the Birmingham Ice Freestylers
The official opening of the rink on Saturday 19 November, by the Mayor of Havering, Councillor Philippa Crowder, was followed by a spectacular performance from the Birmingham Ice Freestylers, and a sing-a-long with Princess Elsa and her sister Anna from the Disney movie Frozen.
Councillor Damian White, Deputy Leader of Havering Council, said:
"This is a great new attraction to bring people to Romford Market Place and fun for all the family. The ice ink is just one of a long list of activities planned to brighten up the winter days and I'd encourage everyone to look for details of all these events in Living in Havering magazine that was been distributed to all homes in the borough last week, or our website (www.havering.gov.uk)."