Danish Delegates look to Havering for inspiration
Over 15 Danish delegates visited the London Borough of Havering last week to learn from the Council's award winning dementia services.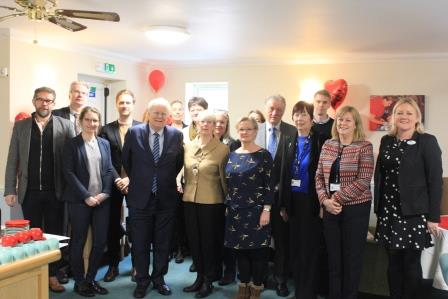 Delegates met with the Havering Dementia Alliance on Thursday (1 March,) to understand how the borough innovatively supports residents and carers. Alongside the Mayor of Havering, Councillor Linda Van den Hende, the delegates toured Romford Care Centre, Harold Hill and St Francis Hospice, to see how the borough has developed dementia friendly environments.
Councillor Wendy Brice-Thompson, Cabinet Member for Adult Social Services and Health, said:
"We are very proud that the Danish delegation chose to visit Havering. The Council has worked hard to create a dementia friendly community through the establishment of the Havering Dementia Alliance back in 2012. We now have over 90 members, including a shopping centre, major retail outlets, GP practices, voluntary organisations, Queen's Theatre,St Francis Hospice, supermarkets plus many more.
"This collaboration aims to support the lives of those living with dementia and their carers. For example, the Mercury Mall Shopping Centre, Romford now operates a 'silent Tuesday' where the music is turned off to make the shopping experience more enjoyable to people with a diagnosis of dementia."
In 2015 the Havering Dementia Alliance achieved dementia friendly status, the highest level of recognition from the Alzheimer's Society, a Alzheimer's National Dementia Friendly Award, and the National Diversity Community award due to the Council's continuing work to raise awareness of dementia within Havering through training and supporting carers who look after people with a diagnosis of dementia.