Report a missed collection
Before telling us about a missed collection please check:
if it is after 5pm and the crew has already been down your road
that the correct bags were used
that your rubbish and recycling was left at your home's boundary by 7am on collection day
that your bags have not been 'stickered'
You will need to create a My Havering account with us first before reporting a missed collection. Get help with My Havering
Stickered sacks
If you have had your sacks stickered and left uncollected it means there are items in there that shouldn't be. Please remove the incorrect items and it will be collected on your next collection day.
To find out what can go in your orange sacks please view our orange sacks page.
To find out what can go in your black sacks please see our black sacks page.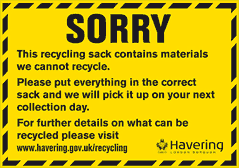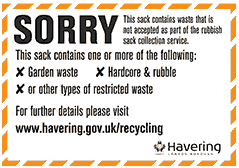 Garden waste bin hanger
At the end of the garden waste service renewal period the following hanger may have been placed on your garden waste bin.
This means either your contract has not been renewed or the renewal sticker has not been put on the bin.
Please make sure you follow the instructions on the hanger to get in touch with us about it.