Our vehicles and drivers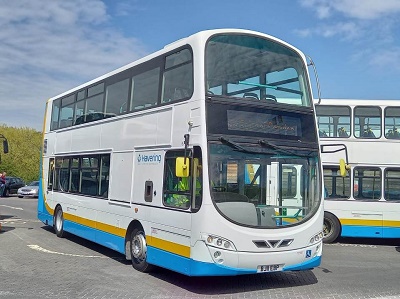 Our current fleet has:
15, 16 and 18 seater wheelchair accessible small buses
24 and 30 seater wheelchair accessible buses*
34 seater wheelchair accessible buses
41 seater low-floor wheelchair accessible buses*
73 seater double decker low-floor wheelchair accessible buses*
For bookings for more flexible requirements we have 59 seater wheelchair accessible coaches.
* Vehicle meets PSVAR requirements (Public Service Vehicles Accessibility Regulations)
Please note vehicles over 16 seats are only available for hire with a driver, vehicles under 16 seats are available to self-drive with a valid driving assessment test to council employees or affiliated groups.
Wheelchair access
All passenger vehicles are accessible to wheelchair users. Most have removable seats to accommodate a number of wheelchair users (15-34 seat buses) all of which carry clamps/wheelchair securing systems.
The removal of seats to accommodate wheelchairs reduces the seating capacity. As a general rule the following applies (obviously this is dependent on the size of the wheelchairs).
1 Wheelchair = 4 seats removed
2 Wheelchairs = 6 seats removed
3 wheelchairs = 10 seats removed
Complete our transport booking enquiry form
Safety standards
15-41 seat buses are fitted with lap and diagonal seatbelts, these seatbelts are fully adjustable, and do not require booster seats to comply with the latest EU regulations.
73 seat double decker buses are fitted with lap belts(may require booster seats to comply with regulations).
15-34 seat buses are also fitted with wheelchair fixings (including the latest 5 point harness fixing) and floors have been tested to M2 standard.
All vehicles have an assigned mobile phone.
We have 24/7 breakdown cover and fleet backup. All buses have 8 weekly inspections in our on site workshop.
All of our drivers have also attended advanced driving courses and the majority are PCV trained.
We pay close attention to drivers hours rules (with independent analysis by the Freight Transport Association) and you can be assured that our drivers will take their breaks to comply with the drivers hours rules.
All of our drivers and passenger assistants have enhanced DBS checks, and have all attended the following courses.
Safeguarding
Drivers CPC (drivers only)
Basic first aid
Disability awareness
Manual handling
Fire evacuation
Equality and diversity
Wheelchair restraints
Challenging behaviour
Dementia
GDPR
Counter-terrorism awareness
Infection control training (Covid-19)