Stay well this winter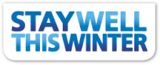 The Cold Weather Plan for England is intended to protect the populations health during cold weather. It encourages at-risk groups to get the free NHS flu vaccination, and to take simple, easy-to-achieve actions to avoid admission to hospital during the winter period.
It recommends a series of steps to reduce the risks to health from cold weather for:
the NHS, local authorities, social care, and other public agencies
professionals working with people at risk
individuals, local communities and voluntary groups
To support the Cold Weather Plan Havering organisations are here to help with practical advice and services to help keep you well this Winter.
Tapestry
Tapestry provide information with helpful tips on;
Heat Your Home
Look after yourself
Eat well
Stay active
Dress for the weather
Get financial support
Find out more on the Tapestry website
Havering Volunteer Centre
Havering Volunteer Centre has a supply of emergency food if you know of anyone who is in need during the cold weather. Any dietary requirements and food allergies required. Food can be collected between Monday to Friday 9am-5pm.
We also have a small supply of warmer items, such as hot water bottles, flasks, socks and a blanket.
Please be vigilant of any isolated elderly neighbours who may be in need during cold weather, making sure they are warm enough and offering to get shopping to save them going out in the cold and icy conditions.
Contact Havering Volunteer Centre
London Fire Brigade
London Fire Brigade issue NHS keep warm leaflets/pack alongside home fire safety visits.
Keep up to date with what's going on. #keephaveringwarm