12 sites regeneration - Harold Hill Town Centre
We have been consulting with residents to find out their views about the future of the Farnham and Hilldene Estate since 2016.
The Farnham and Hilldene shopping area is a key place for Harold Hill's residents and businesses.
In March 2021, the Council's cabinet committed to significant investment in the area to ensure it continues to be a beacon for the neighbourhood and the whole community to enjoy.
In addition to redeveloping Farnham and Hilldene Estate two neighbouring sites, Chippenham Road and the old library site, were added to be delivered as a single masterplan vision.
We have begun to explore what benefits the investment could bring to the area, its residents, businesses and the wider community.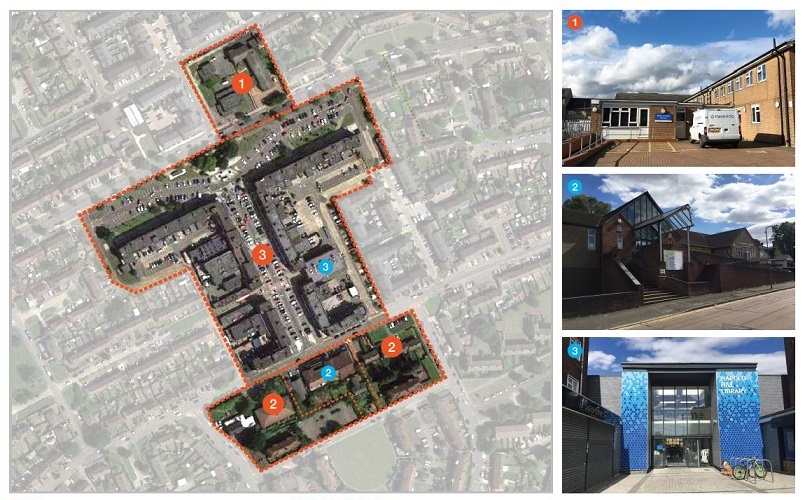 Sites:
1 - Family Welcome Centre and Medical Centre
2 - Chippenham Road
3 - Farnham and Hilldene Estate
Wider Estate:
2 - St George's Parish Church and Centre
3 - Harold Hill Library
"I can't say a bad word about the way it was handled. The officers were fantastic. We feel very settled and grateful."

Elizabeth, a former Farnham Road resident, commenting on her move from the site to enable regeneration
Target start dates
Family Welcome Centre and Health Centre - Phase 1 – Summer 2023
Chippenham Road - Phase 2 - Winter 2024
Farnham and Hilldene - Phase 3a - Q1 2025
Farnham and Hilldene - Phase 3b - Q1 2027
Farnham and Hilldene - Phase 4a - Q1 2029
Farnham and Hilldene - Phase 4b - Q1 2031
Farnham and Hilldene - Phase 5a - Q1 2033
Farnham and Hilldene - Phase 5b - Q1 2035
Phases above (3a-5b) are sub phases of Farnham & Hilldene Phase 3.
Please note that all dates are indicative and subject to change.
Video updates
Further information