Mayor formally opens Harold Hill Community Hub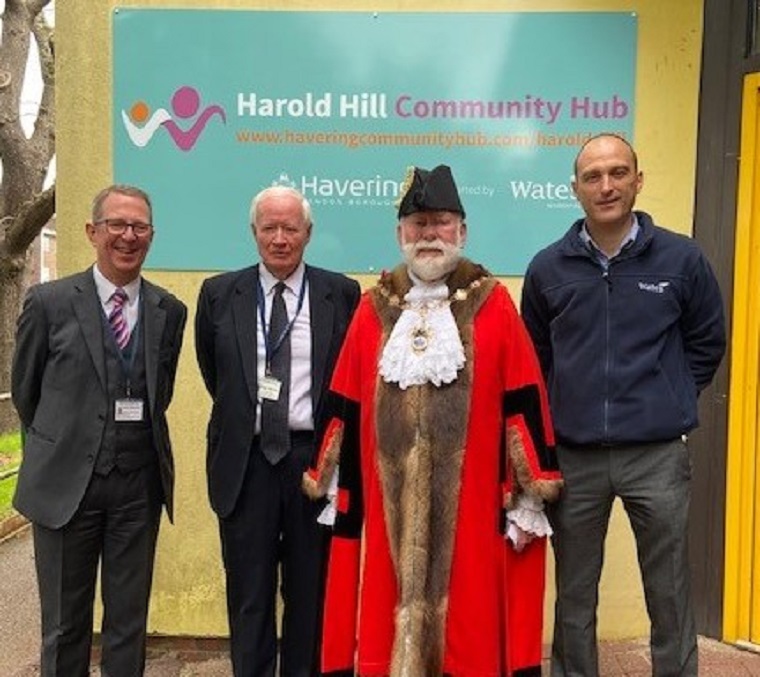 The new Harold Hill Community Hub has been officially opened today (14 October 2021).
The Mayor and Councillor Roger Ramsey, were joined by Council staff, and community partners to formally open the centre in Harold Hill – which has already helped over 1,000 people – since first opening its doors four months ago.
The hub in Harold Hill makes it easier for residents to access Council and community services offering help and advice along with training and job seekers support.
Designed and developed with local residents and partners and tailored to meet local needs, the flagship hub is temporarily based in the old Housing Office at Chippenham Road.
It will move to its permanent home in Harold Hill Library, early next year.
Councillor Mylod, Mayor of Havering Council, said:
"I was proud to officially welcome residents to the hub today – after the formal opening was held back due to Covid 19 restrictions.
"It was great to see first-hand the range of services the Council and our partners have been able to provide.
"This local support is vital to help our communities recover successfully after the pandemic."
Councillor Ramsey added:
"It has been so encouraging to see so many people using the services today and I'd like to thank our partner organisations for working together with us so closely on the vision.
"Thanks also to our Joint Venture partner Wates Residential for their support to refurbish the old Housing Office."
Residents can get advice and support on matters that affect them, help to find a job, provide access to free Wi-Fi and equipment alongside training and skills opportunities, as well as a wide range of social activities.
The Harold Hill Hub also provides a very popular community food shop, managed by Peabody, which is open to anyone to help reduce the cost of a weekly food shop and reduce food waste.
This community initiative offers high quality food sourced from local supermarkets at a reduced price and members can stock up on cupboard staples and fresh produce, offering a great variety with different items each week.
Councillor Mylod, added:
"I encourage everyone to visit the Community Hub and make use of the wide range of vital support and services available for residents."
Havering Council has teamed up with Peabody, Clarion Futures, Forward Trust, Havering Citizens Advice, Christians Against Poverty, Havering Volunteer Centre and many other organisations to deliver a wide range of services and support.
There are further pop up community hubs in Rainham Library and the Mardyke Community Centre that offer support at designated times during the week.