Olympic star Rebecca helps leisure centre works start with a splash
Former Olympic champion Rebecca Adlington helped the start of building works for the new Rainham Leisure Centre go swimmingly this week.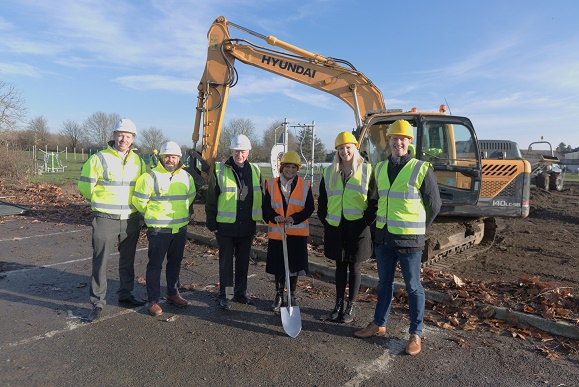 The four-time Olympic swimming medallist joined Councillor Viddy Persaud, Havering's Cabinet Member for Culture and Leisure and Everyone Active, for a groundbreaking event.
It saw the first spade dug into the ground to mark a significant milestone of the construction of the new state of the art centre, on part of the Rainham Recreation Ground.
Also attending was Councillor Roger Ramsey, Havering's Cabinet Member for Finance, Tom Fletcher, Area Contract Manager for Everyone Active, Duncan Cogger, Regional Contract Manager, Everyone Active and Adrian Turner, former Olympian and Director of ReCreation.
The new centre will be built using a modern design and will include a range of facilities such as a six-lane swimming pool, dance and spinning studio and a 72-station fitness suite.
It is expected to be completed and handed over to Everyone Active, the company that runs the leisure centres on behalf of the Council in the borough, in May 2023.
It will be open to the public shortly after. ReCreation, part of Olympian-led Sporting House Group, will manage the design and build of the new facility.
Councillor Viddy Persaud, Havering's Cabinet Member for Culture and Leisure, said:
"We were delighted to welcome Rebecca to Rainham to join us and Everyone Active in marking this first big milestone.
"The building of what will be a fantastic new facility for not only the community in Rainham, but for the borough.
"As our Leader of Council, Cllr Damian White promised, we are looking to deliver an excellent new leisure centre to meet all local needs.
"We're extremely proud that unlike many other councils, we've been able to invest in our leisure centres, which are very important to both our physical and mental health."
Rebecca, who won gold twice at the 2008 Beijing Olympics and two bronze medals at London 2012, said:
"A centre like this is so important for the local community, not just as a way of staying healthy through exercise but also as a place for people of all ages to meet and socialise.
"Thousands of children will also have the opportunity to learn to swim here for decades to come, which is a vital skill that could save their life.
"And, who knows, one day a future Olympian might be discovered here, too!"
Following the ground breaking event, Rebecca met with some pupils from Rainham Village Primary School, which is next door to where the new centre will be.
The pupils were delighted to see that Rebecca had brought her Olympic medals with her for them to see and enjoyed a special question and answer session.
Following the closure of the Chafford Sports Complex, the Council agreed to construct a new leisure centre to replace the dated building which the Council did not own.
Tom Fletcher, Area Contract Manager at Everyone Active, said:
"This is the first step towards welcoming the local community to our new centre.
"This continued investment from the Council will ensure we can enhance our leisure offering and continue to engage people from all backgrounds in exercise.
"We will continue to work hard with Havering Council and our build partners to ensure that every aspect of the refurbishment is completed to the highest quality.
"We're delighted to be able to continue improving the lives and wellbeing of people in Havering."