Queen's Hospital keyworkers celebrated at tree planting ceremony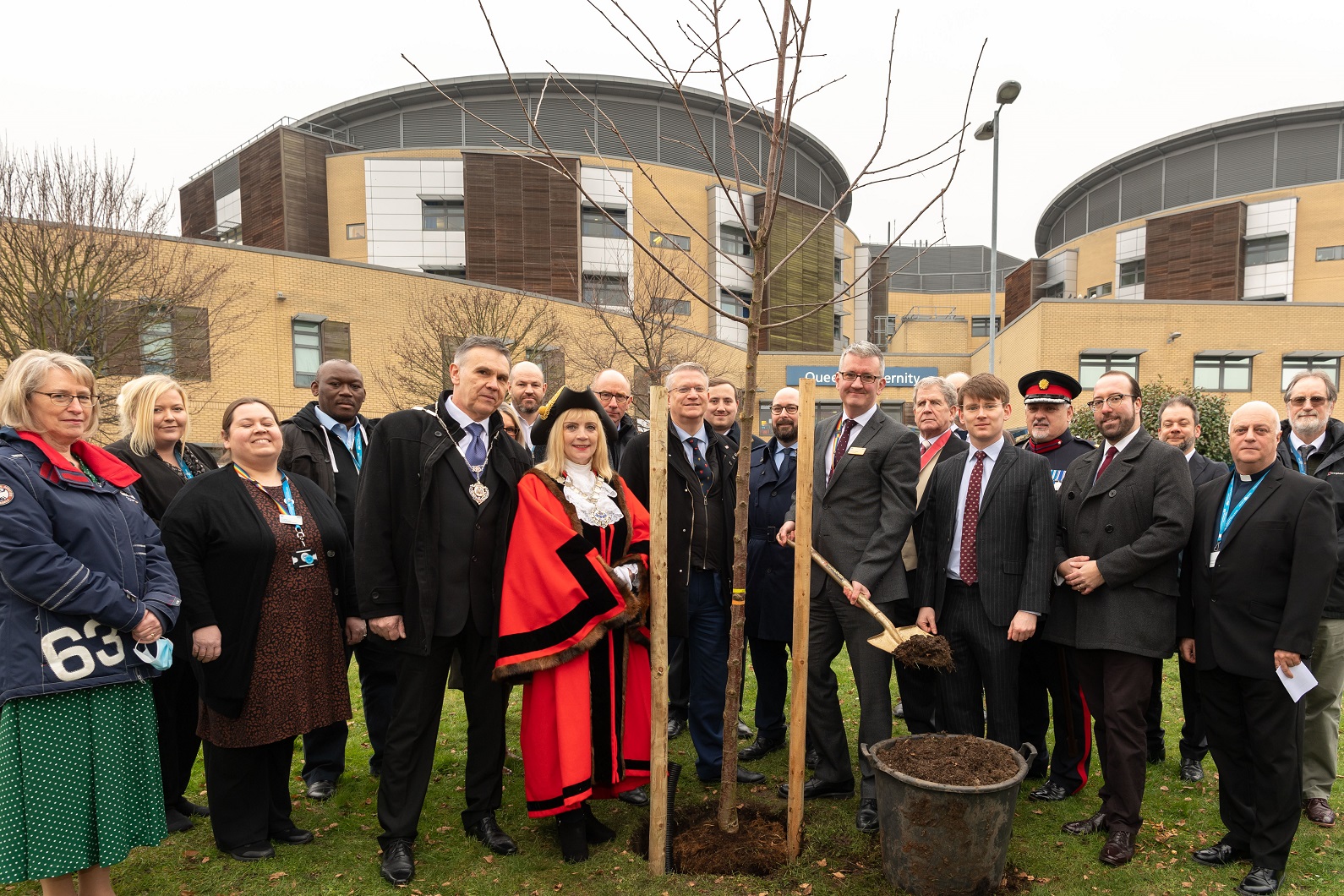 Today (24 January 2022), Havering Council has planted a tree at a dedicated ceremony at Queen's Hospital.
The tree honours NHS staff and social care providers across the borough for keeping our residents safe throughout the pandemic.
The ceremony was attended by representatives of both the Council and Barking, Havering and Redbridge University Hospitals NHS Trust (BHRUT), with the Deputy Mayor of Havering Cllr Christine Vickery, the Leader of Havering Council Cllr Damian White and BHRUT Chief Executive Matthew Trainer all contributing speeches commemorating frontline health workers.
BHRUT Chaplain Tony Minter also blessed the tree, which will provide a space for quiet reflection for both patients and staff for years to come.
The planting at Queen's Hospital was the first of the borough's tree Covid 19 commemorations, the project will see trees planted at vaccination centres, testing sites, ward parks and an extensive woodland of over 4,000 trees at Hornchurch Country Park.
The trees are a living testament to those who have lost their lives, family or loved ones, whilst honouring the significant efforts by key workers and our residents in keeping our borough safe during the pandemic.
The Leader of Havering Council, Damian White, said:
"With the planting of this tree, we wanted to thank and honour NHS staff and social care providers both here at Queen's Hospital and throughout our community, whose efforts and sacrifices in battling the virus have kept our residents safe during the pandemic.
"I hope it will serve as a place of peace and reflection for years to come and be a reminder of Havering's unwavering community spirit which helped us all get through the most difficult of times."
Matthew Trainer, BHRUT Chief Executive, said:
"The resilience and dedication of our staff throughout the pandemic has been remarkable and we're grateful that Havering Council has chosen to plant a commemorative tree at Queen's Hospital.
"We have all been affected by Covid 19 and the tree provides a quiet reflective space for staff, patients and visitors to remember those who have died, while also recognising the sacrifices made by NHS staff."
Deputy Mayor of Havering, Cllr Christine Vickery, said:
"We have all been impacted by the Covid 19 pandemic, either personally or by experiencing its awful effects on family, friends and the wider community.
"I know first-hand of the support and dedication of NHS workers here at Queen's Hospital having been hospitalised with Covid 19 before Christmas, it's thanks to the dedication and care of all staff from cleaners, caterers, receptionists, doctors and nurses that I am on my way to a full recovery.
"So it's a special honour and an expression of my gratitude to thank NHS staff and frontline health workers as we all reflect on the recent challenging times."
In addition to the planting at Queen's Hospital, landscaping works will commence this week at Hornchurch Country Park for the Memorial Woodland, this will close access and parking at the south entrance off South End Road for seven weeks from Wednesday 26 January 2022.
Access and car parking remains available at the north entrance for visitors.