Council flies Commonwealth Flag to mark Commonwealth Day 2022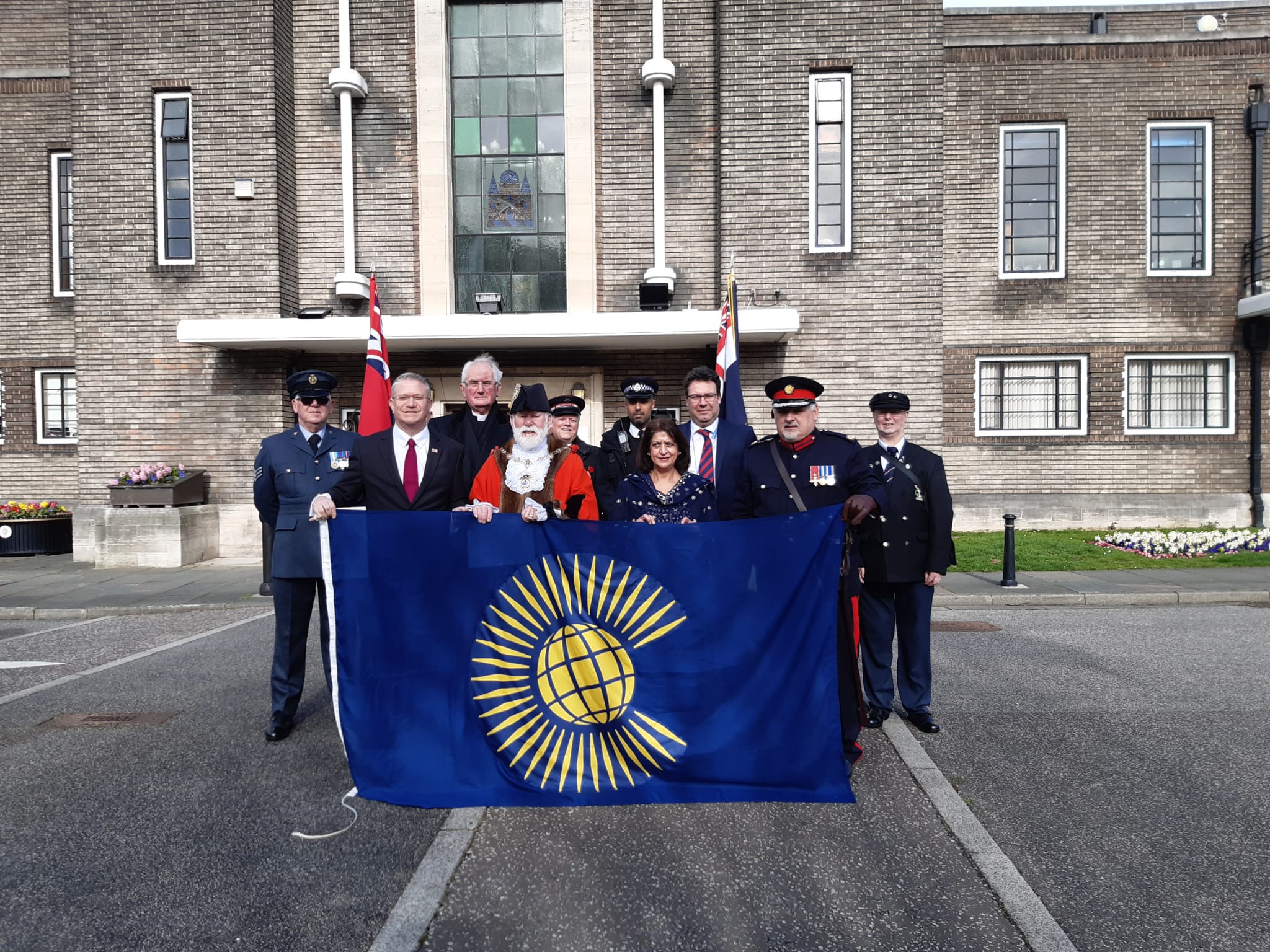 The Mayor of Havering, Councillor John Mylod, led a ceremony of the Commonwealth Flag raising at the Town Hall in Romford today (Monday 14 March 2022).
The theme for Commonwealth Day 2022 is 'innovating, connecting and transforming'.
This highlights how the 54 countries in the Commonwealth family are working together to achieve goals like fighting climate change, improving lives through social and democratic development, promoting good governance and boosting trade.
The theme was chosen because Commonwealth countries are connected by deep-rooted networks of friendship and goodwill.
Given that 2022 is Her Majesty's Platinum Jubilee Year, there will also be a special focus this year on the role service plays in the lives of people and communities across the Commonwealth.
Representatives from the Royal Air Force, the Royal Air Force Cadets and The Salvation Army joined staff who attended the event to hear messages from The Queens Commonwealth, recited by the Deputy Lieutenant of Havering, Nick Bracken OBE and the Commonwealth Secretary General speech, recited by Andrew Rosindell MP for Romford.
The Mayor of Havering also delivered a speech that included reciting the Commonwealth Affirmation followed by the flag being raised on the roof of the Town Hall at 10am.
Mayor of Havering, Councillor John Mylod, said:
"Today marks a time for communities to come together to learn about and celebrate the Commonwealth.
"It provides us with an opportunity to promote understanding on global issues and recognises that together, the countries, and people of the Commonwealth can work together to help improve lives."
Commonwealth Day is celebrated across the Commonwealth by young people, schools, communities and civil society organisations.
It provides an opportunity to promote understanding on global issues, international cooperation and the work of Commonwealth organisations.