Topping out ceremony held for first site in Havering 12 Estates regeneration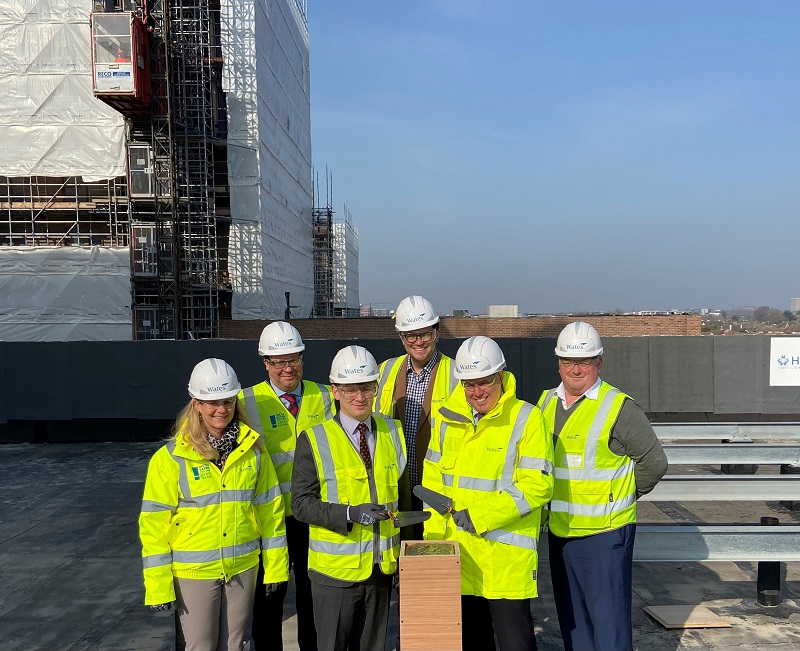 A traditional 'topping out' ceremony has been held at Napier and New Plymouth House, in Rainham.
This is the latest milestone in the Havering Council and Wates Residential joint venture partnership to regenerate 12 council estates across the borough.
Leader of Havering Council, Councillor Damian White, attended the ceremony, today (Monday 21 March 2022), where he was presented with an engraved silver trowel by Charlie Wates, Director at the Wates Group, to mark the occasion.
Councillor Joshua Chapman, Cabinet Member for Housing also joined Andrew Blake-Herbert, Chief Executive of Havering Council and members of the Regeneration Team for the ceremony.
The Napier and New Plymouth development, located in Rainham, will be the first to be completed as part of the larger '12 Estates' regeneration programme. It will see 197 high-quality homes built for local people.
All residents who have been moved off the site to enable the regeneration are guaranteed the right to return, with 126 affordable homes being ready to move in this winter.
By the time it has completed the Napier and New Plymouth development, Wates expects to have awarded over £18 million in contracts with local businesses.
Since work began on the site, it has also invested more than £15 million in social value in the Havering community, including over £100,000 with local charities and community causes.
So far 164 local people have benefited from employment and skills initiatives, while over 1,500 students have been supported via educational activities and programmes.
Councillor White, said:
"This is a key milestone towards welcoming residents to these quality-built new homes later this year.
"It is great to see the continuing progress on site and the on-going strong partnership between the Council and Wates Residential to deliver these homes for local people.
"I am incredibly excited to be able to welcome back the residents who moved out of their homes in order for this development to take place.
"It will also be great to see new residents move in, helping to reduce our housing demand in the borough."
Charlie Wates, Director at Wates Group, said:
"Topping out is a tradition that goes back hundreds of years, marking the completion of a building's highest point, and it won't be long now until local residents are enjoying their new homes.
"Today's milestone at Napier and New Plymouth House is part of a long-term programme that will deliver a lasting legacy for the Havering community.
"This is because it is not just about new homes but also about increasing opportunities for local residents through investment in skills, training and education, as well as a commitment to buying local."
Napier and New Plymouth House replaces two outdated 13-storey tower blocks to increase the amount of affordable and council rented accommodation in the area.
The wider £1.5 billion regeneration project will span the next decade, delivering 3,500 new homes across the borough, including Waterloo Estate and Queens Street in Romford and Serena, Solar and Sunrise Courts in Hornchurch.