Havering flies flag for Armed Forces Day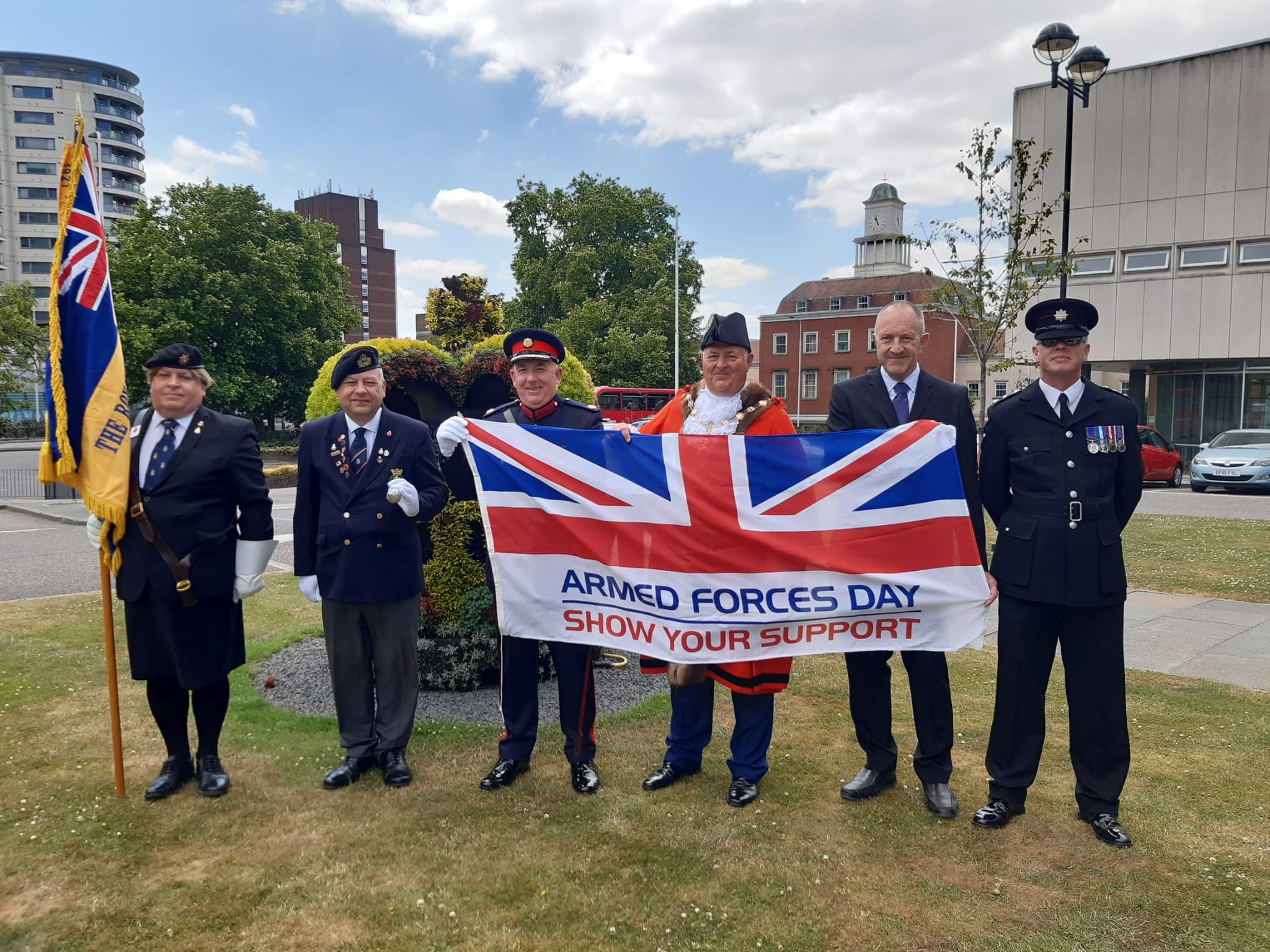 Havering is flying the Armed Forces flag to mark the beginning of Armed Forces Week.
The Mayor of Havering, Councillor Trevor McKeever, raised the Armed Forces flag at a ceremony outside the Town Hall, Romford, on Monday 20 June 2022.
The annual celebration gives thanks to the dedication of our armed forces who serve to keep us all safe.
It gives everyone the opportunity to show their support for men and women of the armed forces past and present.
Havering will once again show appreciation this Armed Forces Day, Saturday 25 June 2022, with a parade starting at 10.30am on South Street's junction with Arcade Place, finishing at Tollgate House, Romford.
Among those marching will be currently serving troops, veterans and cadets, as well as Service families.
Mayor of Havering, Councillor Trevor McKeever, said:
"It is an honour to raise the flag today in dedication of our armed forces.
"From those currently serving, to veterans, cadets and service families, the sacrifice, hard work and courage our armed forces show in risking their lives to keep us safe should never be forgotten.
"For many residents of Havering, the armed forces rightly holds a special place in our hearts.
"Locally, RAF Hornchurch was one of the country's most important military airfields and its pilots became national heroes in both world wars.
"This year also marks 40 years since the Falklands War, a reminder of the contribution then and the continued contribution now of our troops.
"We are proud to raise the Armed Forces flag in recognition of all our heroes involved in past and present conflicts – from Black, Asian and minority ethnic personnel to other groups as well as commonwealth nations who fought together.
"Havering's appreciation for the armed forces remains as strong as ever, and flying this flag marks our support to all servicemen and servicewomen across the United Kingdom."