Havering celebrates Pride weekend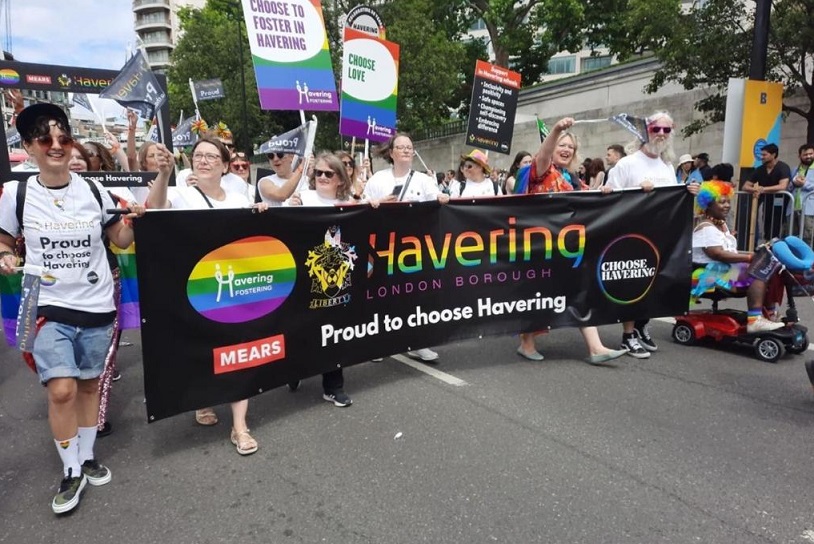 Havering Council joined hundreds of other organisations in celebrating Pride in London for the very first time.
A flag raising ceremony at the Town Hall, Romford on Friday (1 July 2022) started celebrations ahead of elected councillors and partners attending the Pride in London march on Saturday (2 July 2022).
Pride in London is the UK's biggest march of its kind and a platform for London's LGBT+ communities to campaign and raise awareness of LGBT+ issues.
The march marked 50 years since the very first Pride march, with the parade retracing the historic route taken in 1972.
Our Havering representatives joined thousands of others in the parade which started on Park Lane and travelled down Piccadilly, crossing Piccadilly Circus, down Haymarket, before turning left towards Trafalgar Square and Whitehall.
Mayor of Havering, Councillor Trevor McKeever, said:
"It was an honour to mark Pride in London in Havering by raising the Progress Pride flag at the Town Hall over the weekend.
"We raised the flag as an expression of celebration, joy and triumph but also an acknowledgement of the continued fight for justice, equality and acceptance.
"Havering attending the Pride in London event for the first time is a very proud moment for our borough.
"It signifies how far we have come in our journey of inclusivity but also shows that we will continue to support the huge amount of work yet to do in the fight for equal rights across the LGBT+ community and beyond."