Havering Hubs receive digital tech and training boost
Visitors to Havering Hubs are set to benefit following a donation of 15 laptop computers from Cognizant.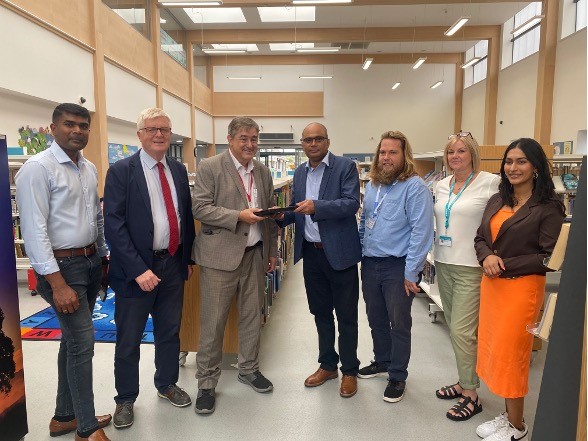 The new tech will help visitors access the internet and gain skills through free digital training from Cognizant volunteers.
Cllr Keith Darvill, Cabinet Member for Climate Agenda and Cllr Paul McGeary, Cabinet Member for Housing joined Rohit Gupta, Cognizant UK and I Head, at Harold Hill Hub to accept the laptop donation on behalf of the Council.
Cognizant, through their volunteering-led social impact programme 'Outreach', previously supported the Council during the pandemic by providing a free digital platform that helped collaborate volunteer efforts.
Their project partner Computer Aid, reconditioned the laptops to be used at Havering Hubs as part of Cognizant's aim of donating 80,000 devices globally and redirecting equipment away from landfill.
The donation forms part of their longer-term commitment to Havering Hubs which will see Cognizant volunteers host free digital sessions designed to give attendees the skills and knowledge needed for careers in technology.
The Havering Hubs have already helped deliver localised services to over 4,000 visitors since opening last summer in Harold Hill and Rainham. In that time, 371 residents have gained employment support, 208 residents have received support to prevent eviction and homelessness, and 161 have accessed financial advice.
In partnership with the voluntary community sector, the Hubs make it easier for residents to access benefits advice, money management, job brokers, children's services and mental health support.
The site in Harold Hill, which moved to its new permanent location of Harold Hill Library earlier this summer, includes a community food shop, managed by Peabody, which helps families and individuals struggling on low income and those finding it difficult to make ends meet.
Cllr Keith Darvill, Cabinet Member for Climate Agenda, Havering Council, said;
"The laptop donation and training support from Cognizant will go a long way in furthering the services on offer at our Hubs and helping residents combat the cost of living crisis.
"The offer of free new tech also helps save the Council and tax payers money, whilst having a positive environmental impact.
"Thanks to Cognizant for this generous gesture."
Cllr Paul McGeary, Cabinet Member for Housing, Havering Council and Havering Hubs Committee Member, said;
"This is a huge boost to the already successful Havering Hubs in Harold Hill and Rainham.
"The laptops will help visitors keep up to date on what is happening in their communities, in addition to providing access to jobs and new skills.
"We know buying computers is expensive, so this kind donation from Cognizant will go a long way in providing free digital access to those who can't afford it at home.
"I thank Cognizant on behalf of local residents for their continued support, it's a great benefit to the local area."
Rohit Gupta, Cognizant UK and I Head, said;
"I am so pleased that we are supporting Havering Council with this donation as it is not only a sustainable way of repurposing devices, but our volunteering-led work with Havering Council also delivers skilling programs that create opportunities for tech enabled careers.
"This directly aligns with our own Cognizant values and goals, to build tech abilities in strategic markets for underrepresented groups to facilitate pathways into tech careers."