Christmas cheer served up at thank-you lunch for volunteers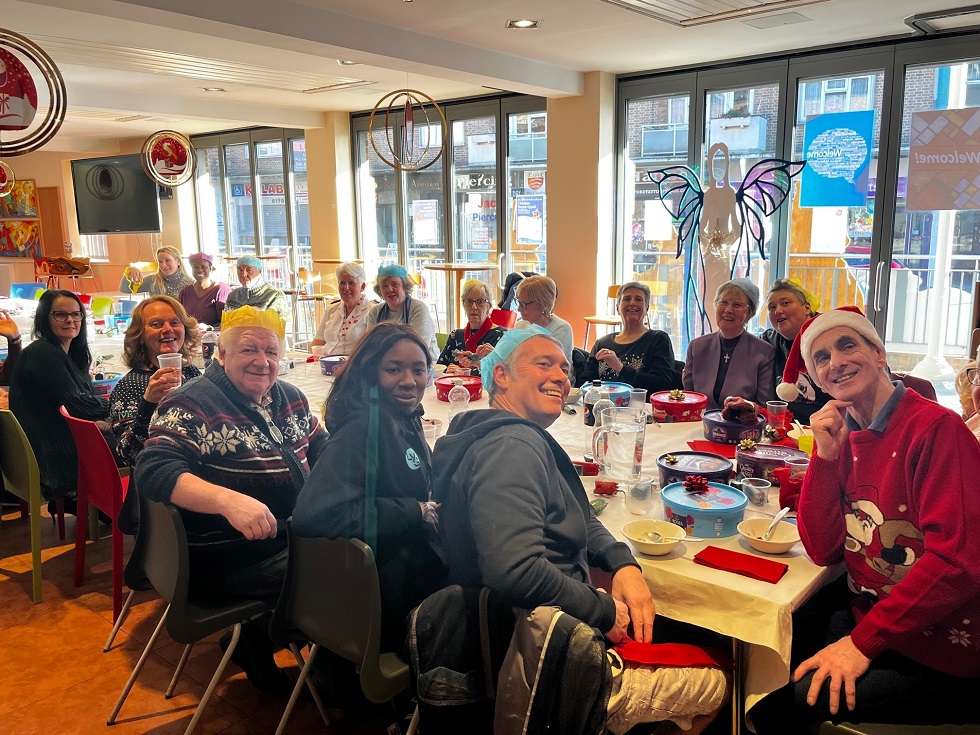 Havering Council and Wates Residential Joint venture laid on a free Christmas lunch to thank volunteers for their work over the past year.
Councillor Graham Williamson, Cabinet Lead for Development and Regeneration, joined Council officers and colleagues from Wates Residential to serve lunch to Salvation Army volunteers – for the first festive get-to-together of this kind since the pandemic.
The event on 6 December 2022, saw volunteers from the Council, Wates Residential and The Salvation Army cook and serve meals to 55 local volunteers from The Salvation Army in Romford.
Wates Residential colleagues working across the borough have also been assisting the Salvation Army with their Christmas present collection.
More than 100 gifts were donated by workers across the Havering sites to help provide gifts for children this year.
This commitment to support the local community is part of Havering Council and Wates Residential's joint pledge to deliver a borough-wide legacy through the '12 Estates' project, building 3,500 new homes for local people over the next 12-15 years.
The first phase of the project includes the 197 homes at the former Napier and New Plymouth site in Rainham, now known as New Green, a mixture of social housing and shared ownership, the retirement village at the former Solar, Serena and Sunrise site in South Hornchurch due for completion in Winter 2023, and the Waterloo and Queen Street site in Romford, which is currently scheduled to start construction next summer.
Councillor Williamson, said:
"It's wonderful to be able to come and support events like this, to show our appreciation for the work that organisations like the Salvation Army do.
"It's a great example of how regeneration and the role of social value can go far beyond just building new homes for local people.
"It makes me proud to see so many local people who work very hard to support some of our most vulnerable residents being thanked for their efforts."
Hugh Jeffery, Development Director from Wates Residential, said:
"The '12 Estates' joint venture between Havering Council and Wates Residential works to improve the communities in and around our projects.
"We do this by employing local businesses and people, but also by working with organisations like The Salvation Army in Romford, which is close to our Waterloo and Queens Street site.
"This Christmas celebratory event is a way for us to say thank you to their volunteers, who give back their time and dedication to help local people.
"Gifts have been also collected across our sites for children in the borough as part of their Christmas present collection initiative, which we hope brings them joy."
Nina Mortimer, Centre Manager at the Salvation Army in Romford, said:
"We put on this yearly event to bring our local community together and thank our volunteers for their continued hard work.
"Having the support from the joint venture partnership has certainly helped us to deliver our commitment to our wonderful community.
"We are deeply thankful for the present donations and are certain that they will be greatly received by the children and families that we support.
"There will be many happy faces throughout this festive season and into the new year."