Developers break ground at 120-home development on former Havering College site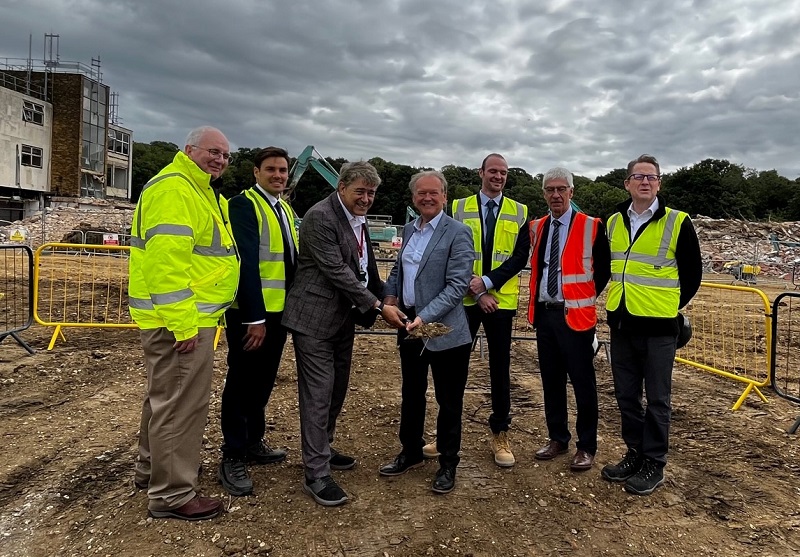 Bellway and Mercury Land Holdings have broken ground on a project that will transform the former Havering College Quarles Campus in Harold Hill into a 120-home development.
Bellway hosted a formal 'first spade in the ground' ceremony at the development, which will be known as Roe Wood Park, on Tuesday 4 July 2023.
The scheme is a joint venture with Havering Council and Mercury Land Holdings, the local authority's development company.
Bellway London Partnerships will now progress with building the homes on the nine-acre site, off Tring Gardens, where demolition work is underway.
David Burns, Managing Director of Bellway London Partnerships, said:
"It was a pleasure to be able to welcome representatives from both Havering Council and its development company Mercury Land Holdings to join us at the ground-breaking ceremony at Roe Wood Park. We continue to work closely with the local authority on this project.
"The start of construction work represents a significant milestone in the progress of this exciting scheme, in which more than one third of the properties will be affordable homes.
"We are hoping to release the plots for sale this autumn and anticipate we will be in a position to open a sales office and show-home on the development in September."
The Havering Council delegation included Councillor Paul McGeary, Cabinet Lead for Housing and Gooshays ward councillor, Councillor Graham Williamson, Cabinet Lead for Development and Regeneration, and Paul Walker, Assistant Director for Development at Havering Council. Mercury Land Holdings was represented by its Director Gary Green and Development Manager, Christopher Hobbs.
Roe Wood Park will include 73 houses and apartments for private sale and 47 affordable homes available for local people through low-cost rent or shared ownership.
Councillor McGeary said:
"As a Gooshays ward councillor, I am particularly interested in this scheme and the additional homes it will provide for Havering residents, both in terms of much-needed social housing and the choices these high-quality homes will provide for people looking to buy."
Garry Green, Director at Mercury Land Holdings, said:
"As a wholly owned company of the London Borough of Havering we are delighted to have received the support and commitment of the Council to enable this development to proceed in collaboration with Bellway.
"It is particularly pleasing to be providing 47 affordable homes for the Council, 18 of which are three bedroom houses for rent."
Bellway London Partnerships is hoping to hand over the keys to the first residents in 2024 and the overall project is expected to take three years to complete.
Find out more information about Roe Wood Park