Waterloo and Queen Street's Community Garden Officially Opens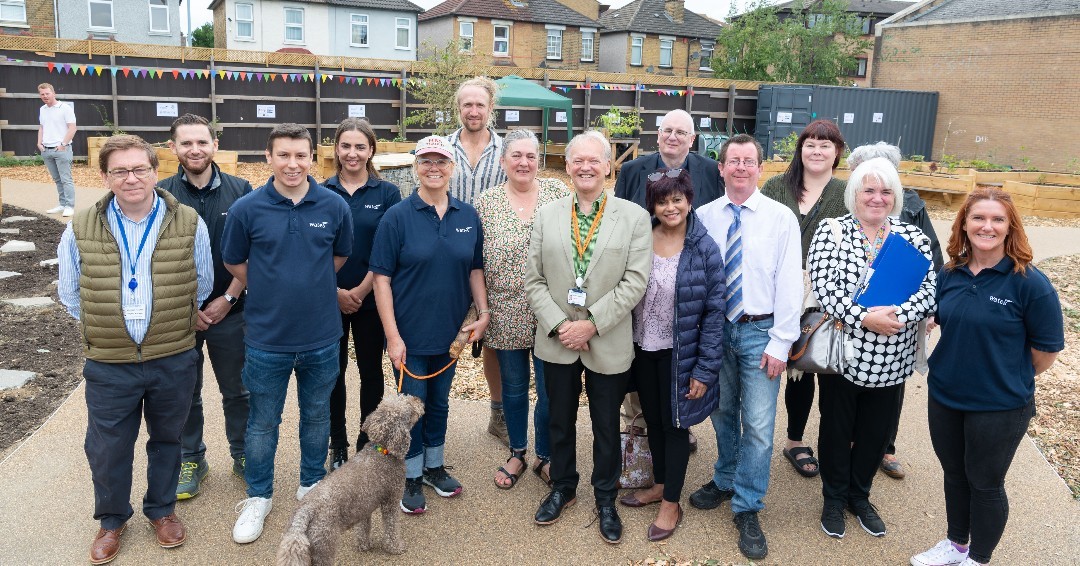 The community garden at Cotleigh Road in Romford, celebrated its grand opening on Saturday 22 July 2023 as it was officially presented to the local community.
The garden is part of an ongoing 'meanwhile use' project at the Waterloo and Queen Street site, part of Havering Council and national developer Wates' largest social housing regeneration in London.
Meanwhile use means using part of a development site before it is turned into what it will eventually become (homes for local people), and taking advantage by making use of the land for that period of time.
Designed by the residents over a series of workshops with the help of an urban garden specialist, Nomadic Gardens, the celebrations formed part of the St Andrews Parish Summer fete, at which the joint venture provided food for the barbecue.
Joint Venture businesses including Total Protection group, Swift Brickwork, Proplant Scaffolding, Algeco, Madigan Gill and Travis Perkins have also sponsored the creation of the garden.
Residents enjoyed arts and crafts, and traditional games as well as having the opportunity to sow more seeds for the community garden.
They were joined by Wates directors and the Social Value team: Helen Bunch (Executive Director), Steve Rees (FD), Hugh Jeffery (Regional Director), Joe Arthur, Michelle McSorley (Social Value Director), Daniel Harrison, Georgie Hawkins and Charlie Hargreaves, Ward Councillors and Councillor Graham Williamson, Cabinet Lead for Development and Regeneration, who helped residents to plant a shrub in the garden to mark the occasion.
Councillor Graham Williamson, said:
"It's been great to be a part of today and know that so many local people – young and old – will get to enjoy this community garden.
"It is unusual but most welcome that a piece of community 'infrastructure' is built before a development has even been started.
"It's another example of how the Havering/Wates joint venture partnership is working together to deliver social value projects as part of the broader home-building scheme and it's an innovative use of space for meanwhile use."
Helen Bunch, Executive Director at Wates said:
"I have been delighted to be part of the day. It is a great example of how partnerships such as that between Havering and Wates can play an important role in building healthy and active communities around home-building schemes.
"This community garden is a place where we hope local people will build friendships, create cohesion and enjoy the space for their wellbeing."