Windmill sailing high again
Havering Council joined in the celebrations yesterday (Thursday 14 September 2023) to mark the official re-opening of the historic Upminster Windmill to the public.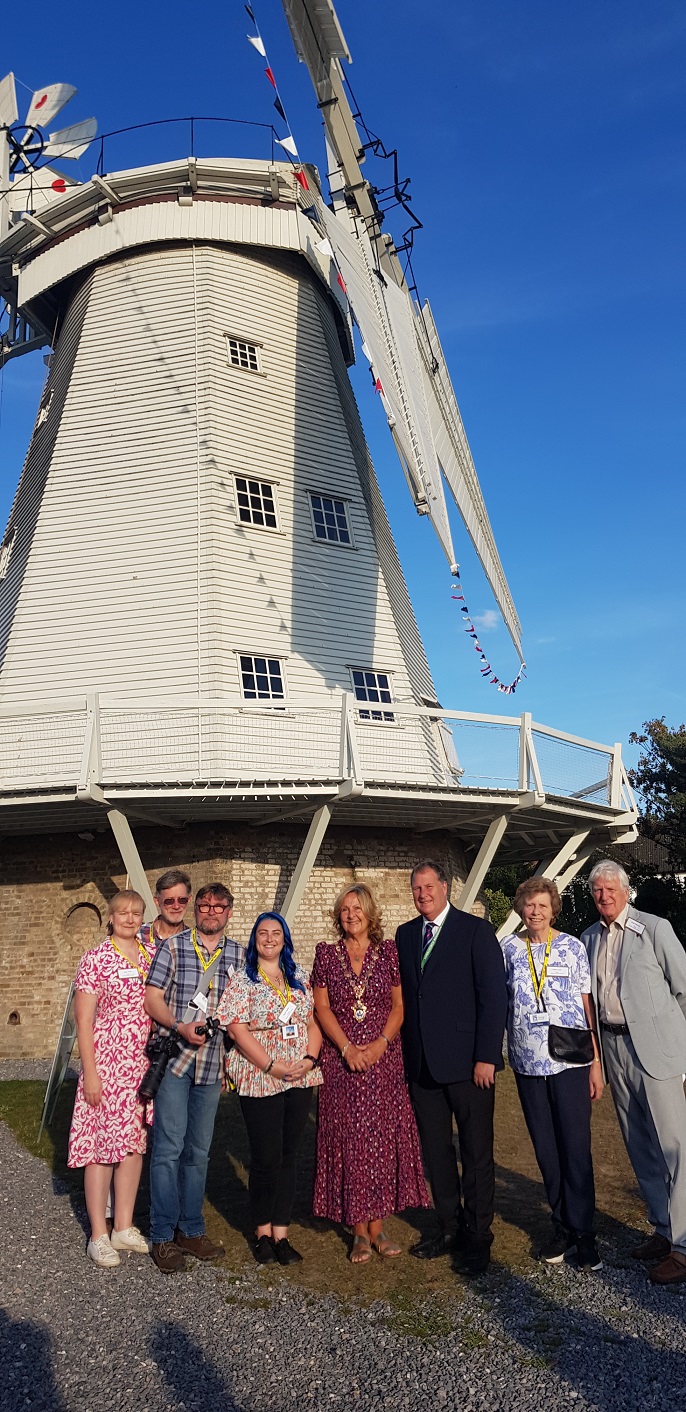 The windmill has been restored to full working order in an ambitious project by the Friends of Upminster Windmill.
It also includes the addition of a visitor centre and education facilities for the local community, schools and youth groups, and visitors from all over the world.
Havering Mayor Councillor Stephanie Nunn and Councillor Barry Mugglestone, Cabinet member for Environment joined volunteers and supporters.
The event was held at the site in St Mary's Lane, Upminster.
The project was delivered in partnership between the Friends of Upminster Windmill and the Council.
This was along with funding from the National Lottery Heritage Fund, Veolia Environmental Trust and Veolia Havering Riverside Maintenance Trust.
Upminster Windmill is a Grade II* listed smock mill, widely considered to be one of the best examples of its kind in the UK.
Since 2015, it has undergone a full restoration to bring it back to working order.
Specialist and structural work was completed by the Dutch millwright, Willem Dijkstra.
Volunteers from the Friends of Upminster Windmill have invested thousands of hours completing the internal machinery.
They also built a community garden, researching the history and archaeology of the site and building award-winning digital and interpretation technology.
Councillor Barry Mugglestone, Cabinet Member for Environment, said:
"We're delighted to see the Upminster Windmill fully restored and open to residents and visitors of all ages once again.
"The windmill is one of the borough's most famous landmarks.
"It was a great project to work on in partnership with the Friends of Upminster Windmill who manage the site on behalf of the Council.
"It is not only back in working order but is a place where we can enjoy some of the best culture our borough has to offer.
"Alongside that, there is a great centre offering facilities for education and our younger residents to learn more about it and the borough they live and go to school in.
"We hope everyone enjoys visiting Upminster Windmill for generations to come."
Justin Coombs, Trustee of the Friends of Upminster Windmill, said:
"We're thrilled to be welcoming visitors back to the windmill.
"The restoration is truly stunning combined with the new onsite visitor and education centre.
"It means we are able to offer a much broader experience to both the public and the many education and youth groups that visit.
"We are hugely grateful to our hundred plus team of volunteers who have delivered so much of the project, alongside the skilled millwrighting professionals."
A open weekend takes place next Saturday 23 and Sunday 24 September 2023, with further open days planned for October 2023.