Havering celebrates Black History Month 2023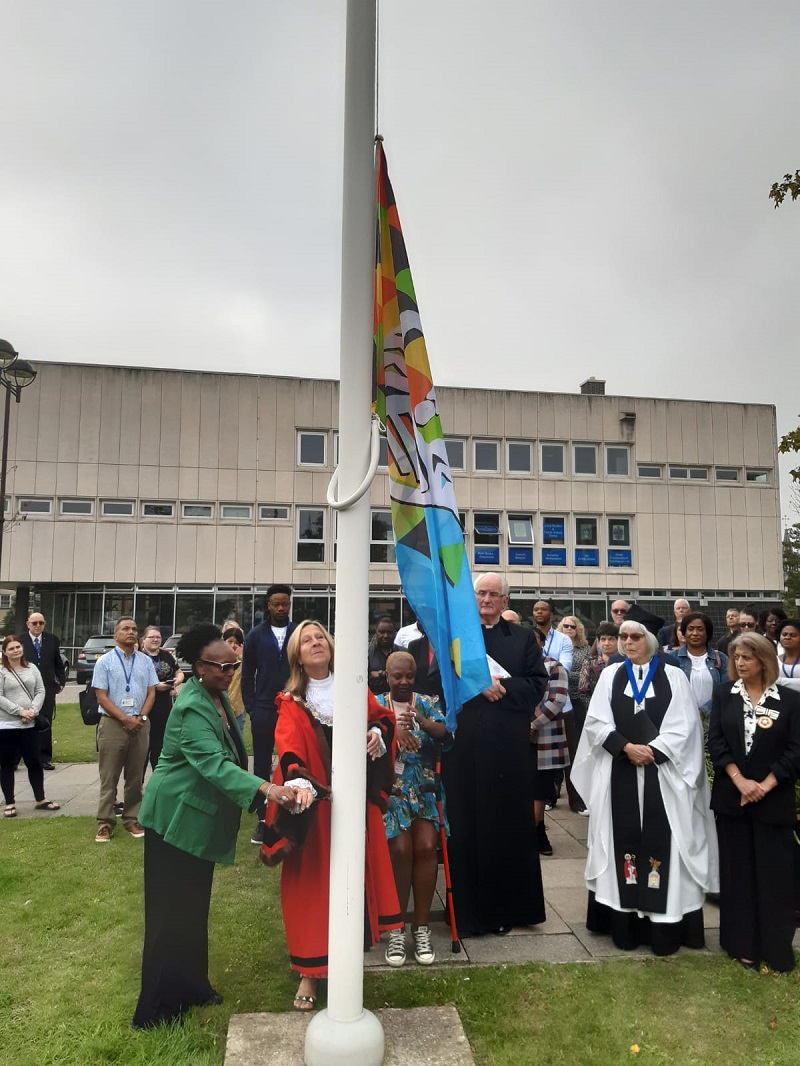 Havering Council is proud to celebrate Black History Month this October.
Black History Month is an annual celebration of the history, achievements and contributions of Black people in the UK.
It officially started in Havering on Monday 2 October 2023 at a flag raising ceremony at Havering Town Hall, Romford.
The ceremony was attended by the Mayor of Havering, Councillor Stephanie Nunn, Chief Executive of Havering Council, Andrew Blake-Herbert, Simon Hutchinson of the Metropolitan Police, ward councillors and representatives from the Council's Black, Asian and Minority Ethnic (BAME) staff forum.
At the ceremony, a one minute silence was observed at 11am to reflect on past and present racism encountered by BAME people across Britain.
The national theme for this year's Black History Month is 'Saluting our Sisters'. It highlights the crucial role that black women have played in shaping history, inspiring change, and building communities.
Havering Council's BAME staff forum will be leading the internal celebrations via a programme of educational and interactive activities.
These will be inclusive sessions available to colleagues of all cultural backgrounds to celebrate, learn and reflect on experiences shared by BAME peers.
Black History Month is also being celebrated throughout Havering Libraries by showcasing themed book displays throughout October.
Romford Library is hosting Triple O, a pioneering London based poet and rapper for performances on Thursday 5 and 26 October from 4pm.
African artist Olu Eche will be exhibiting in Romford Library throughout Black History Month, her works combine lines, contrasts and flowers, primarily working in graphite, pen and ink, while depicting positive reflections of everyday life.
The Mayor of Havering, Cllr Stephanie Nunn, said:
"It's an honour to mark Black History Month and join the national celebrations throughout October.
"Our Black, Asian and minority ethnic communities have contributed so much to Havering.
"Thank you to the Council's BAME Staff Forum and our Libraries for their continued efforts in showcasing a variety of events and activities again this year."