Council tenants move into new St George's Park homes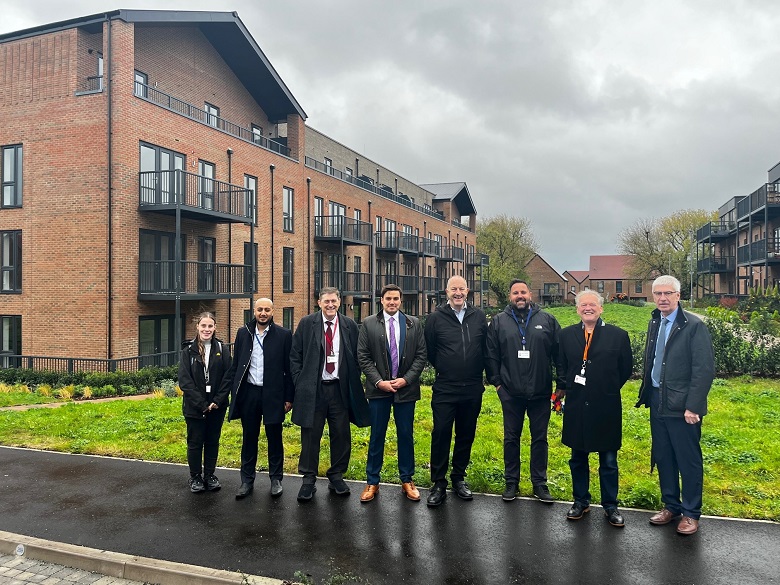 Residents are moving into their new homes at St George's Park, Hornchurch.
Last week, Councillor Ray Morgon, Leader of the Council, was joined by Councillor Paul McGeary, Cabinet Lead for Housing, Councillor Graham Williamson, Cabinet Lead for Development and Regeneration, Garry Green and Christopher Hobbs for Mercury Land Holdings, to welcome residents and view the new properties.
The 14 homes built for affordable rent are part of the wider block of one and two bedroom apartments, which also include 18 shared ownership and four homes for direct sale (leasehold).
The Council's wholly owned development company, Mercury Land Holdings, project managed the delivery of the new homes in partnership with Bellway.
The homes are surrounded by green open space, but within easy access of the town centre and Hornchurch Station, providing easy access into London and surrounding areas.
This development will appeal to families, with good schools in the area, and for those taking their first steps on the property ladder.
The apartment block is named after Pilot Officer John Flewelling Soden, who was part of the 603 Squadron at RAF Hornchurch, and the road, Ratten Close, is named after John Richard Ratten, who commanded 453 Squadron and flew as part of the Hornchurch Wing during World War II.
Councillor Ray Morgon, Leader of Havering Council, said:
"I'd like to welcome all our new tenants and home owners to their new homes and hope they have many happy years living here.
"These high quality homes are another step towards providing more affordable homes for Havering residents.
"It remains a priority for this Council to help with the high demand for affordable homes in the borough, and we continue to actively search for places the council can build, to increase our local housing stock to house more local residents."
The Council rents out just over 9,420 council homes in Havering, while other registered providers of social housing provide around 4,300 more.
Demand for social housing in Havering significantly exceeds the number of properties available.
In the financial year 2022/23, only two in every 10 households on the housing register had a realistic prospect of securing social housing.
We continue to prioritise applications from Havering's social workers, NHS workers and those working in education for these properties.
For more information on the shared ownership and outright sales opportunities, please email sales@porterglennynewhomes.co.uk or call 01708 725000.