Think differently about plastic for a greener Havering
Changing the way we use plastics to ensure we can enjoy a greener environment, has been at the forefront of Havering Council's events to mark Recycle Week [24-30 September].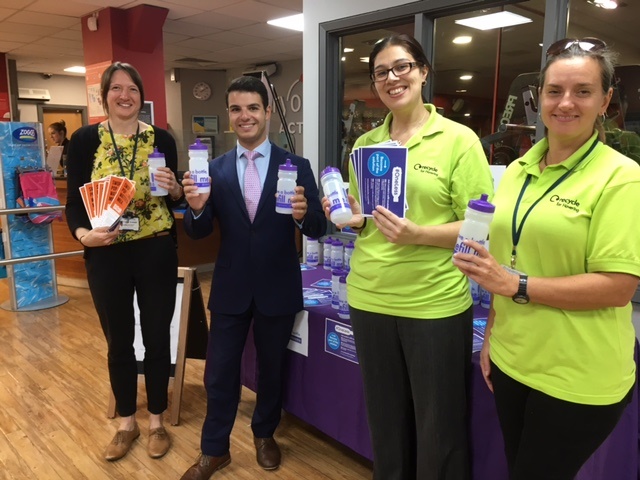 The Council's waste and recycling team gave out reusable bottles and general advice on how to reduce both waste and sugar consumption in the home, workplaces and schools.
The final event of the week takes place on Saturday 29 September, when the Council's waste and recycling team will be on the second floor, at the Mercury Mall, Romford, from 9.30am to 5pm.
This follows events earlier in the week, at Sapphire Ice and Leisure, Romford and Hornchurch Sports Centre, where advice was to look at how people use plastic in their daily lives and consider what changes they can make to help provide a greener environment for Havering.
At each event, visitors were able to grab one of the reusable water bottles and
find out more about the campaign, including where to find free water refill points across the Borough via www.refill.org.uk.
Swapping single-use plastic bottles for free reusable water bottles is just one way that the Council's waste and recycling team were raising awareness through a simple action.
Also supporting Recycle Week, Romford Library hosted a story time event today [Wednesday 26 September], by reading children's stories that focus on looking after the environment and Waterstones in Lockwood Walks, Romford, are holding a similar story time event on [Friday] from 10am, again supporting Recycling Week with children's stories on the theme of looking after the environment
During this week of events, the Council's public health team were also on board to make links with the SUGAR SMART September campaign, encouraging people to swap their sugary drinks for refillable bottles of water, thus helping to reduce their sugar intake. For more details, visit www.sugarsmartuk.org.
Councillor Osman Dervish, Cabinet Member for Environment, said: "The aim of our messaging during Recycle Week was to drive down single use plastics and reduce waste, whilst encouraging as many people as possible to use free water refill stations around the borough.
"We want to provide as many opportunities as we can, to encourage our residents to make healthier and more sustainable choices when it comes to reducing the use of plastic and minimising waste."
Notes to Editor:
The reusable bottles are funded by Veolia as part of its Recycling Fund for Communities scheme. www.veolia.com