Residents have say on borough's biggest regeneration project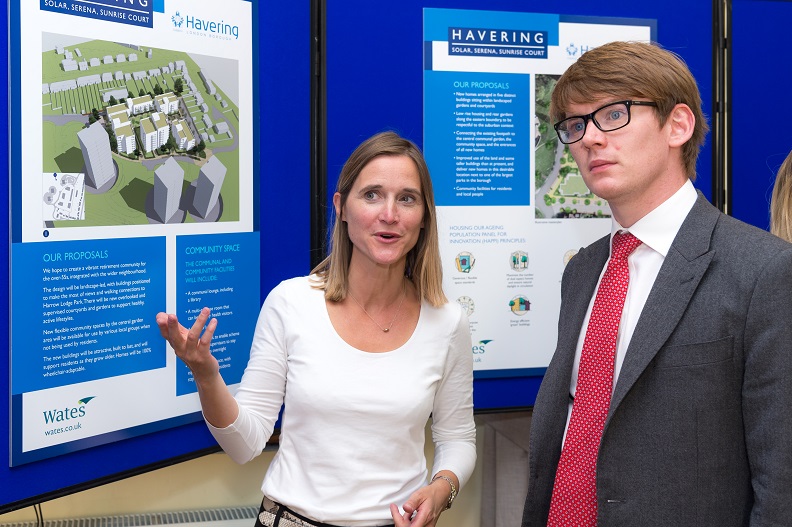 Residents in Havering are being invited to have their say on prospective ideas and designs for the biggest housing regeneration project in the borough.
The joint venture partnership between the London Borough of Havering and national developer Wates Residential will see 12 council estates regenerated to provide around 3,000 homes for local people over the next 12 years.
The first phase of the work will include the Waterloo Estate in Romford, Serena, Solar and Sunrise Courts in Hornchurch, and Napier and New Plymouth Houses in Rainham.
Councillor Damian White, Leader of Havering Council, said:
"We are keen to get the views from as many residents and local businesses as possible as we aim to deliver genuinely affordable homes and increased social housing, but most importantly thriving communities.
"This joint venture with Wates Residential will allow us to deliver more job and career opportunities, better infrastructure, and great places, which will assist us in keeping Havering Special."
Over the last two weeks, Havering Council and Wates Residential have hosted four consultation events across the three sites, with local residents invited to meet both the teams and comment on a series of ideas that will help shape the next chapter in the borough's history.
Local people are now being encouraged to provide further views and comments on the prospective designs and landscaping, as well as on ideas including a new village square on the Waterloo Estate, the amount of car parking spaces and the provision of more sustainable transport options.
Residents can email haveringestateregeneration@glhearn.com or send their feedback via post to: Waterloo Estate Regeneration, c/o GL Hearn, 280 High Holborn, WC1V 7EE.
The long-term partnership between Havering Council and Wates Residential will see an overhaul of the borough's existing council accommodation. The new high quality homes will be designed to meet local needs and will deliver improved provision, with council rented accommodation increasing by 70 per cent.
As part of the project, Havering Council and Wates Residential have also made a joint pledge to deliver a lasting legacy for the community through investment in skills, training, education and local facilities. The council predicts social value benefits for Phase 1 of the project will be worth around £6.8 million.
Activities have already included members of staff from both Havering Council and Wates planting flower beds and vegetable patches at six locations across the borough, while future commitments include school curriculum support and the delivery of around 165 apprenticeships.
Kate Ives, Development Director for Wates Residential South, said:
"We are working in partnership with Havering Council to build housing that puts local people first. We want to create a thriving community and deliver a borough-wide legacy for generations to come.
"That's why we are so grateful to all the local people who came to visit us at the consultation events and who have shared their views with us so far.
"We want to hear from as many local people as possible and would encourage anyone with ideas or comments to get in touch via the dedicated email or by post.
"Feedback from residents is vital and will be taken into account over the coming months during the design development stage."