Plans to invest £30million to improve roads and pavements unveiled in Council budget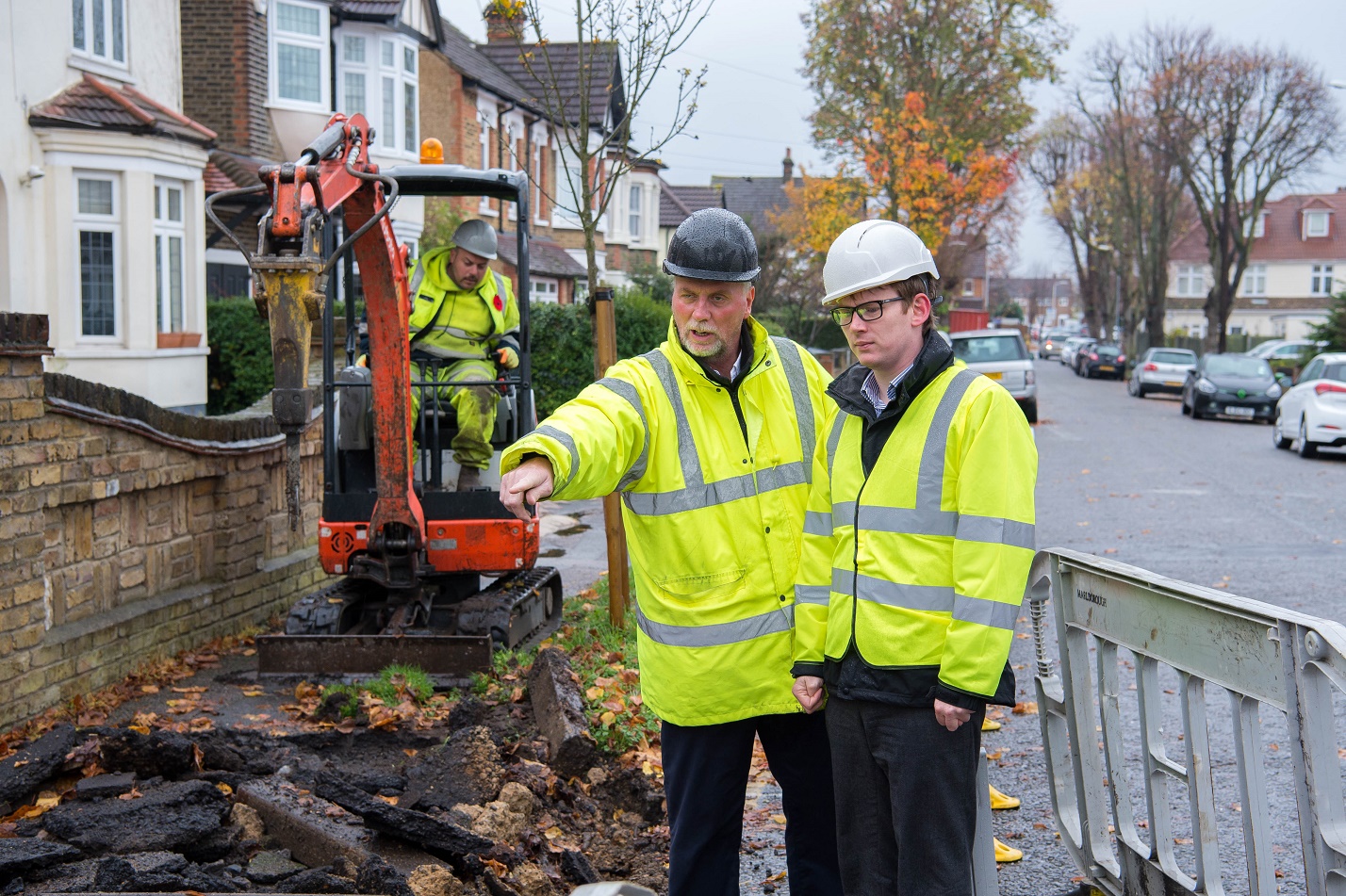 Proposals for what is likely to be one of the biggest road and pavement improvement programmes of any London borough are being published this week.
In 2019/20 budget Havering Council is setting out proposals to spend £30 million over the next three years on resurfacing roads and pavements and fixing potholes, which is a significant increase on the current (2018/19) budget of £3.2 million. It comes in direct response to what residents say is a major issue.
The £30m proposed investment comes on top of a multi-million pound investment in sport and leisure facilities in 2018/19 which has already seen the Sapphire Ice and Leisure centre open in Romford, with a new leisure centre and swimming pool due to open in Hornchurch in 2020.
As part of the budget, Havering plans to maintain a weekly refuse collection for residents at a time when many councils have moved to a fortnightly collection.
Around £250,000 has also been earmarked to improve CCTV to enhance community safety.
Council Leader Cllr Damian White says that the budget proposals, which will be discussed at next Thursday's (29 November 2018) special Cabinet meeting, responds to the issues that matter to our residents the most, following a budget consultation and Residents' Survey.
"People told us that the quality of care and support for vulnerable people is incredibly important to them – we are protecting spend in that area," said Cllr White. "People told us that they are worried about the quality of roads and pavements – we are investing significantly to improve them.
"People told us that, even though we have less crime than most London boroughs, they are worried about safety after dark which is why we are planning to increase investment in better CCTV.
"People told us that the quality of refuse collection is important – we are one of a minority of councils to retain a weekly collection when most others have moved to a fortnightly collection.
"This is a council that listens to our residents and acts in their best interests."
A combination of rising demand for services for residents and reductions in Government funding requires Havering to save around £37 million over the next three years as part of the Council's contribution to reducing national debt.
In 2019/20 a savings target of £14.6 million has been set towards the £37 million.
The Council is doing everything possible to make savings in ways that residents won't notice. This includes re-negotiating contracts, streamlining processes and automating processes.
As part of the budget proposals the Council wants to bring more services together under one roof with fewer buildings overall, which could change the way some services are delivered in areas like children's centres.
Other proposals going forward for discussion
Consulting with residents on possibly extending controlled parking in the borough to deter commuters from parking in residential streets.
Reducing traffic congestion by stepping up traffic enforcement through the use of CCTV at key junctions which will go hand-in-hand with improved signage to make the rules very clear as well as a period where people will receive warnings rather than fines.
Bringing the level of council tax support, where people who claim unemployment or disability benefits receive a significant discount, in line with other London boroughs. It is proposed that the discount for working age unemployment claimants changes from 85 per cent to 75 per cent, while the discount for people on disability benefits changes from 85 per cent to 80 per cent.
Increasing the council tax surcharge on properties that are empty for two years or more from 50 per cent of council tax to 100 per cent, as an incentive to landlords to bring them back into use. This would mean that owners of properties that have been empty for two years or more would pay double the amount of other council tax payers.
Making changes to public conveniences by removing out-dated facilities and increasing access to existing community facilities in places like shops, pubs and restaurants.
Reviewing the number of buildings that the council owns with a view to bringing public services together where possible. The Council wants to safeguard local libraries by encouraging continued community involvement in the delivery of services, while extending opening hours in main libraries.
Increasing parking charges to make a contribution towards the cost of improving roads and pavements, which includes introducing a charge for Sunday parking. Free parking would be retained in local shopping areas.
Reviewing charges for Adult Social Care with the focus on ensuring that people who can afford to pay make a small contribution towards the cost of care and equipment in the home.
Reviewing youth provision by looking at ways in which the council can work more closely with disadvantaged young people, including those at risk of being lured into gangs. While there may be savings in specific areas by doing things differently, the Council wants to increase targeted support for vulnerable young people.
Cllr Damian White added: "We need to save roughly a quarter of our budget over the next three years so we need to do things differently while facing some tough decisions. We are embracing this challenge while focusing all our energy on how we can make an already great place to live even better.
"Make no mistake, we are hugely ambitious for Havering which is why we are working with our community to make our award-winning parks even better and our streets even cleaner and safer. That is why we are bringing in billions of pounds of new investment into Havering which will improve our neighbourhoods, create more local jobs and bring more genuinely affordable homes to the borough."
The budget proposals will be discussed at Havering Council's Cabinet meeting on Thursday 29 November before final budget proposals, along with council tax levels, are agreed at Full Council on 20 February 2019.
Once the budget is set the Council will consult with communities on any significant changes to individual services before final decisions are made.