Residents set for career boost with Havering Works launch
The Council launches a new service set to help local people find jobs and develop key employment skills, while providing local businesses with essential new talent.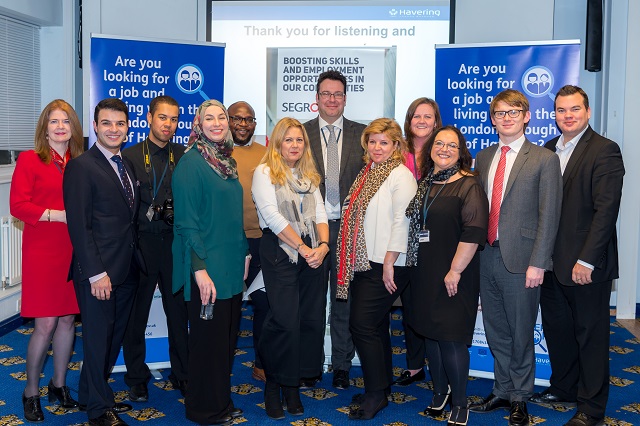 On Wednesday night, 12 December, The Mayor of Havering, Councillor Dilip Patel, and the Leader of the Council, Councillor Damian White, along with representatives from Council service areas welcomed business leaders and local partners to the official launch of Havering Works; the new employment and skills service for residents and businesses in the borough.
Havering Works has been developed alongside the Council's Employment and Skills plan which was approved by Cabinet earlier this year. The aim of the plan is to develop the local workforce and make sure that local people have access to training and employment opportunities with local businesses.
Councillor Damian White, Leader of Havering Council, said:
"Havering Works is part of a wider Council commitment to support our residents, businesses and communities to succeed.
"This service offers coaching and employment opportunities to local people and provides direct links to local employers.
"By working with both residents and businesses, Havering Works will improve the prospects of local people finding local jobs, and will create a greater sense of aspiration for many residents."
The service will provide residents with:
confidential one-to-one assessment of individual skills and training development needs
guidance from a qualified personal mentor to help develop an Action Plan with steps towards achieving work/training/further or higher education aims
job coaching and mentoring
matching transferable skills and experience to job vacancies
job search support (CV review, help with job applications and interview preparation)
support once in work.
To employers Havering Works offer:
a dedicated Employer Engagement Officer that will works with in partnership with the business
help to a business to recruit, train and retain valuable employees.
zero cost recruitment and talent match services.
individual support and assistance during recruitment open days
post-employment support to help the individual remain in work.
For more information visit www.Haveirng.gov.uk/HaveringWorks