80 Christmas lunches for Havering homeless and volunteers
Dozens of homeless people and volunteers in Havering have been served special three-course Christmas meals thanks to volunteers from the borough's biggest regeneration project and The Salvation Army.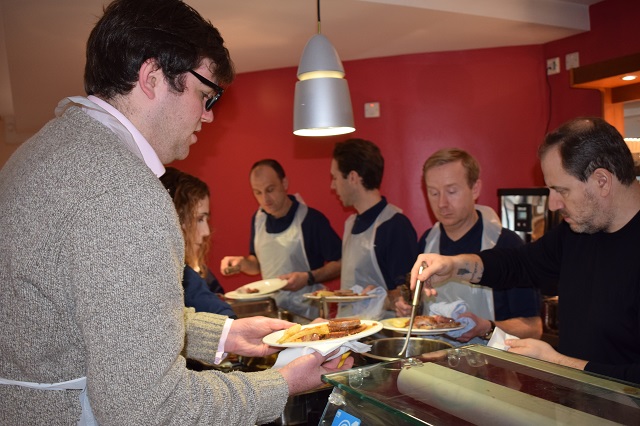 The meals were organised by Wates Residential, Havering Council and its partners to help support 40 of the borough's most vulnerable residents in the run-up to Christmas. Twelve volunteers cooked and served Christmas dinners with all of the trimmings whilst guests pulled crackers and donned paper hats. Christmas gift bags, provided by Wates Residential, The Salvation Army and other donors, containing essential items including gloves, underwear and toiletries were also given to all of the attendees.
The second event saw 40 local volunteers from The Salvation Army enjoy a festive lunch on Tuesday. It was attended by Councillor Joshua Chapman, Cabinet Member for Housing, and Gerri Scott, Director of Housing Services at Havering Council, along with 14 volunteers who helped celebrate and thank the group for their crucial work helping those who are in need.
Simon Boyle from Beyond Food CIC, a social enterprise that delivers professional food training programmes for adults at risk of homelessness, provided turkeys – sponsored by British Premium Meats – and pigs in blankets for both events, while his team of chefs cooked up the festive feasts. Tins of chocolate were also donated by GL Hearn as a thank you for the Salvation Army volunteers. The total value of the food and gloves donated was more than £660.
Wates Residential and Havering Council are currently working in partnership to build around 3,000 new homes for local people across a number of sites in the borough. As part of the project, they have pledged to deliver a borough-wide legacy through investment in education, training and skills. This has already included the creation of a number of apprenticeships and work experience placements, a special workshop for primary school pupils to use their computer gaming skills to road-test and improve the design of one of the sites, and the creation of a number of flower beds and vegetable patches at several housing estates in the borough.
Kate Ives, Development Director for Wates Residential, said:
"We are very pleased that we could work together with our partners to organise these festive events and provide a hot Christmas meal for some of the most vulnerable people in Havering. Crucially, we hope that the supply of gloves, toiletries and other items will help make a difference this winter.
"As an industry, it is important that we continue to look at what more we can do to help address homelessness and reduce the numbers of people rough sleeping."
Councillor Joshua Chapman, Cabinet Member for Housing, said:
"This is another great example of how the benefits of regeneration go far beyond bricks and mortar.
"The Council is working hard with our partners to provide essential help and support to rough sleepers. This means that no one will need to spend Christmas on the streets in Havering.
"Events like these are a fantastic opportunity for us to be able to say thank you to the volunteers who work hard all year round to support some of the most vulnerable members of our community."
Dave Chuck, Community Manager at The Salvation Army, said:
"We were provided with the wonderful opportunity to celebrate Christmas with some of the neediest in the borough and the volunteers that help to support them throughout the year.

"Both groups appreciated and celebrated the kind donations and support provided by Wates Residential and its partners. It also took a great weight off my mind in organising these events!"
Simon Boyle, Founder of Beyond Food CIC and social enterprise restaurant Brigade, said:
"I am so pleased to have Brigade and Beyond apprentices give back to the Romford Salvation Army Christmas lunches.
"Cooking a warm home-cooked meal for people that are in a situation of misfortune and vulnerability is a vital way to give back, as they were once in a similar position and fully understand how it feels to be excluded."